Wangara Benkadi Kurubi festival continues to expose to the world with huge potentials cultural and eco-tourism of the people and Kintampo which has attracted both public and private investments and has become a major activity of the world tourism day celebrations and UNESCO heritage festival.
In a welcome Address read on behalf of the Wangara paramount chief Sariki Fanyinama III, the secretary of Wangara Youth Alhaji Abubakar Seidu observed that festivals in the country are celebrated for several reasons and the Kurubi festival celebrates the value, tradition and a platform for implementing Development interventions in their communities to enhance the socio-economic needs.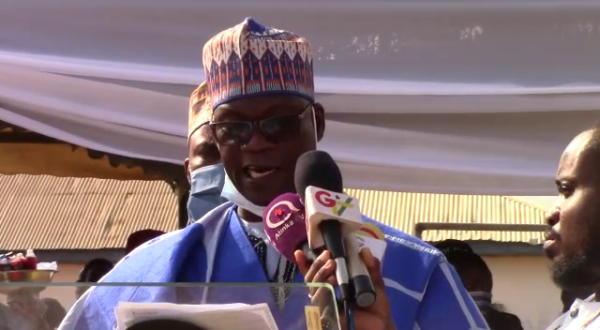 He says to the youth as well as the people in the Zongo communities is to eschew violence and direct efforts and energies to a peaceful Election come December 7.
According to him, so far Zongos have not recorded any serious incident of Election-related violence.
Read also: Martin Amidu Resigns As Special Prosecutor
He mentioned that, issues confronting the council of Wangara chiefs are transported to facilitate their work, and also support to complete their office accommodation for the council.
The Bono East regional minister Hon Kofi Amoakohene applause the Wangara paramount chief Nana Sariki Fanyinama III who double as Acting president of Zongo chiefs for his commitment to ensuring peace in the Zongo communities.
He says NPP government-led Nana Addo Dankwa Akufo Addo has a lot of developmental policies for zongo communities across the country.
He urged the people to massively for the NPP government coming December 7 general elections to retain power.
Watch video:
Written by: Ebenezer Berfi,B/A