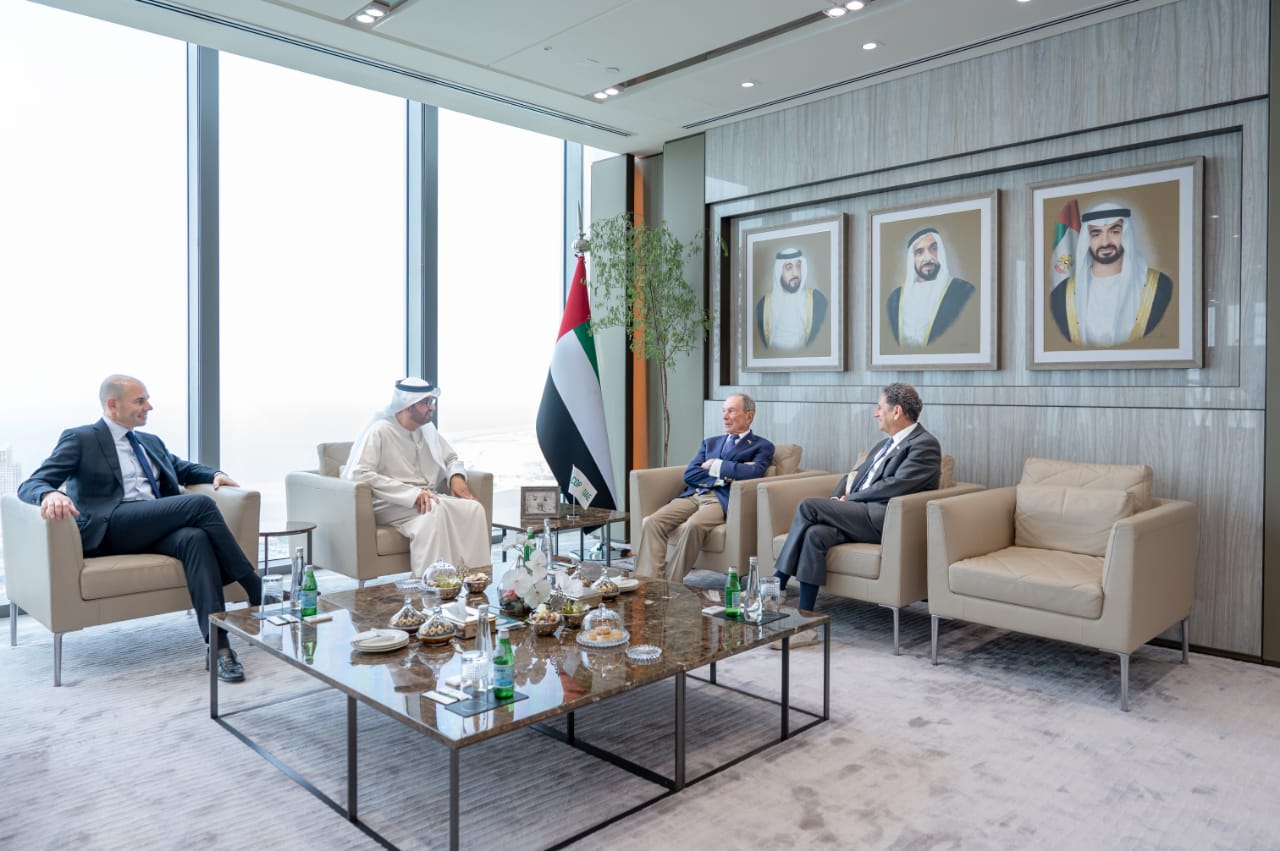 Bloomberg Philanthropies and the International Renewable Energy Agency (IRENA) announced on Monday, May 22, a new COP28 partnership to accelerate clean energy deployment and capital mobilization in emerging markets and developing countries.
The collaboration will allow IRENA to advance efforts to drive the widespread adoption of renewable energy and reduce political, technical, and financial barriers to the energy transition ahead of COP28 and the landmark Global Stocktake – assessing national contributions and progress toward the Paris Agreement goals.
The official announcement was made in the presence of His Excellency Dr Sultan Al Jaber, President-Designate of COP28, Francesco La Camera, Director-General of IRENA, and Michael R. Bloomberg, UN Special Envoy on Climate Ambition and Solutions and founder of Bloomberg L.P. and Bloomberg Philanthropies in Dubai.
IRENA will create capacity in Southeast Asia, Africa, and Latin America with the help of Bloomberg Philanthropies.
This entails strengthening IRENA's capacity to build tailored, scalable renewable energy initiatives, through policy recommendations, technical assistance, and funding solutions, aimed at accelerating decarbonization and strengthening climate resilience for lives and livelihoods.
The Energy Transition Accelerator Financing (ETAF) Platform – IRENA's global climate finance platform aimed at mobilizing capital to scale up renewables-based energy transition technologies in emerging markets and developing economies (EMDEs) by 2030 – will be strengthened, as will the technical and financial feasibility work required to deliver a robust pipeline of potential projects.
Another focus will be on facilitating private capital mobilization.
In the run-up to COP28, Bloomberg Philanthropies and IRENA will collaborate to present readily investable energy transition projects to financial institutions that have committed to net zero and seek to increase investments in climate solutions in developing countries, in collaboration with the Glasgow Financial Alliance for Net Zero (GFANZ).
Dr. Sultan Al Jaber, COP28 President-Designate and Chairman of Masdar, one of the world's largest investors in renewable energy, said in a statement following the announcement that the UAE welcomes the ambitious partnership between Bloomberg Philanthropies and IRENA to champion innovation and deliver clean energy, climate action, and economic prosperity for emerging markets in the Global South.
"The world must move faster and further than ever before to seize the moment of the Global Stocktake and close the gap between ambition and reality. I look forward to working hand in hand with Bloomberg Philanthropies and IRENA to create a paradigm shift for tangible progress and help ensure that COP28 UAE delivers on its promise to deliver game-changing solutions for all," he said.
According to Michael R. Bloomberg, UN Secretary-General's Special Envoy on Climate Ambition and Solutions and founder of Bloomberg Philanthropies, increasing renewable energy production is an urgent necessity that requires strong partnerships across the public, private, and nonprofit sectors.
"Increasing the production of renewable energy is an urgent necessity, and doing it requires strong partnerships across the public, private, and nonprofit sectors," Mr Bloomberg said.
Working closely with the International Renewable Energy Agency, he indicated that, will assist nations in the Global South acquire the ability needed to implement renewable energy projects more rapidly and efficiently.
Francesco La Camera, Director-General of IRENA, stated that, while progress is being made on the energy transition, it is still far from complete.
"Annual additions of renewable power capacity must grow three times the current level by 2030 if we want to stay on track to limiting the impacts of climate change and stay below 1.5°C. As we drive towards solutions at COP28, today's agreement between IRENA and Bloomberg Philanthropies will accelerate the development and delivery of renewable energy projects in the countries that need it most."
The statement copied to JoyNews to Mahmud Mohammed-Nurudeen, further explained that, today's announcement supports Bloomberg Philanthropies' overarching partnership with the COP28 Presidency to galvanize climate action by increasing clean energy development and capital mobilization both in the lead-up to and on the ground at the climate conference in Dubai.
The Bloomberg-IRENA COP28 partnership complements Bloomberg Philanthropies' collaborations with GFANZ, Sustainable Energy for All (SEforALL), and other organizations to assist developing countries in Africa, Asia, and Latin America in accelerating coal phaseout, developing viable pathways to net-zero energy, and accelerating renewable energy deployment.
Limiting global warming to 1.5°C will necessitate a large increase in renewable energy production to allow for the transition away from fossil fuels.
IRENA reported in March that it released the World Energy Transitions Outlook Preview 2023, which identified the urgent need to course-correct the energy transition in order to meet the 1.5°C objective. While 2022 saw the highest annual gain in renewable energy capacity, China, the European Union, and the United States accounted for 75% of the increased capacity.
While clean energy investment has lately increased, capital remains excessively concentrated in the Global North; by 2021, renewable energy investment per capita in North America will be 57 times that in Sub-Saharan Africa.
Rapidly scaling clean energy infrastructure, creating more favourable and enabling regulatory settings, and facilitating better access to funding for clean energy projects will promote clean energy infrastructure in the neediest countries.
About 770 million people, especially in Africa and Asia, lack access to electricity. Ensuring that power demands are fulfilled by renewable energy rather than fossil fuels will be critical to fulfilling international climate targets.
Anchored in Bloomberg Philanthropies' ongoing clean energy programs in 32 countries and the EU, today's announcement aims to help deliver on United Nations Secretary-General António Guterres' commitment to ensure clean energy access for all by 2030.
One of the major hurdles to scaling up clean energy financing is a steady supply of bankable renewable energy projects.
According to IRENA, renewables investment reached USD 0.5 trillion in 2022; nonetheless, this represents less than one-third of the average annual investments required through 2030 to achieve net-zero emission goals by 2050.
Bloomberg and IRENA's new partnership will reduce the risk for potential developers and investors by providing vigorous technical and financial expertise to eligible projects that meet environmental, social, regulatory, and economic factors, as well as implementation readiness.
DISCLAIMER: The Views, Comments, Opinions, Contributions and Statements made by Readers and Contributors on this platform do not necessarily represent the views or policies of Homebase Television Ltd.
Visit Our Social Media for More
About Author