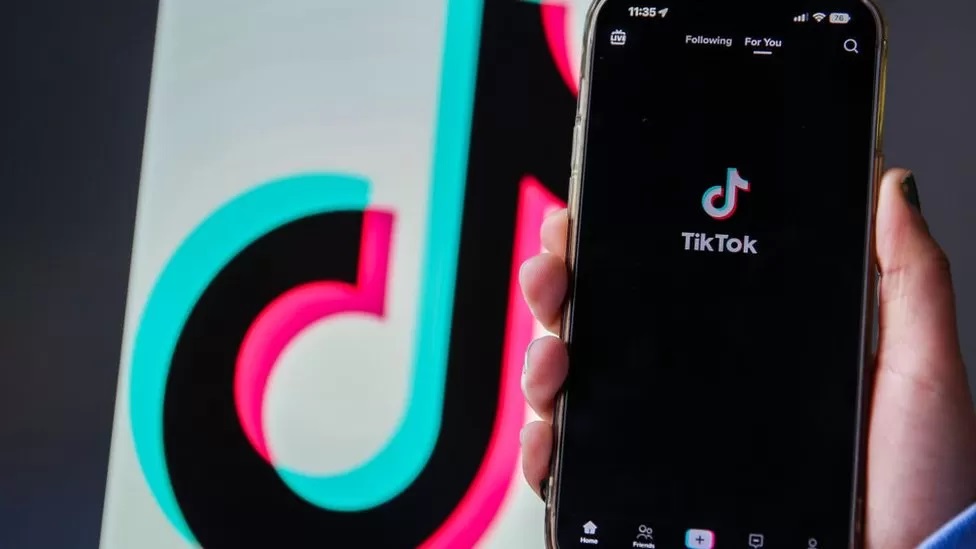 The BBC has advised staff to delete TikTok from corporate phones because of privacy and security fears.
The BBC seems to be the first UK media organisation to issue the guidance – and only the second in the world after Denmark's public service broadcaster.
The BBC said it would continue to use the platform for editorial and marketing purposes for now. TikTok has consistently denied any wrongdoing.
The app has been banned on government phones in the UK and elsewhere.
Countries imposing bans include the US, Canada, New Zealand and Belgium, while the same applies to anyone working at the European Commission.
However, it is still permitted on personal devices.
The big fear is that data harvested by the platform from corporate phones could be shared with the Chinese government by TikTok's parent company ByteDance, because its headquarters are in Beijing.
TikTok says the bans are based on "fundamental misconceptions".
ByteDance employees were found to have tracked the locations of a handful of Western journalists in 2022. The company says they were fired.
Alicia Kearns, who chairs the Foreign Affairs Committee, was asked for her view on the BBC's decision, and tweeted: "If protecting sources isn't a priority, that's a major problem."
'Encouraging TikTok, not banning it'
Dominic Ponsford, editor-in-chief of journalism industry trade publication the Press Gazette, said it would be interesting to see what other media organisations decide to do.
He told the BBC: "I suspect everyone's chief technical officer will be looking at this very closely.
"Until now, news organisations have been very keen to use TikTok, because it's been one of the fastest-growing social media platforms for news publishers over the last year, and it's been a good source of audience and traffic.
"So most of the talk in the news media has been around encouraging TikTok rather than banning it."
BBC taking security 'incredibly seriously'
The short-video platform is known for its viral dance crazes, sketches and filters and is hugely popular among young people, with more than 3.5 billion downloads worldwide.
Channel 4 News presenter Krishnan Guru-Murthy tweeted in reaction to the decision: "BBC News making big play for views on TikTok but now the BBC is telling staff not to have it on their phones".
A BBC spokesperson said it took the safety and security of its systems, data and people "incredibly seriously".
In an email to staff on Sunday, it said: "The decision is based on concerns raised by government authorities worldwide regarding data privacy and security.
"If the device is a BBC corporate device, and you do not need TikTok for business reasons, TikTok should be deleted from the BBC corporate mobile device."
Staff with the app on a personal phone that they also use for work have been asked to contact the corporation's Information Security team for further discussions, while it reviews concerns around TikTok.
BBC News has its own TikTok channel with 1.2 million followers, and has recently recruited journalists to work specifically on creating content for it. A separate BBC account, which shares BBC programme clips, has more than four million followers.
When asked, by BBC News, why the BBC was continuing to indirectly encourage use of the app by audiences while removing it from many corporate phones, the corporation said that it was giving guidance to staff with access to sensitive data, and was not issuing a public warning about the general use of TikTok.
TikTok said it was disappointed with the BBC's decision.
A spokesperson said: "The BBC has a strong presence on our platform, with multiple accounts from news through to music reaching our engaged community both in the UK and around the world.
"We believe these bans have been based on fundamental misconceptions and driven by wider geopolitics.
"We remain in close dialogue with the BBC and are committed to working with them to address any concerns they have."
Other social media platforms have also faced criticism over privacy and data, but they are mainly US-owned – whereas ByteDance has faced claims of being influenced by Beijing.
While there has been no solid proof of this, there have been a number of incidents which have raised suspicions despite TikTok's repeated denial that it has ever shared data with the Chinese government. It asserts that all Western users' data is stored outside the country.
For example, a US TikTokker shared a video criticising the Chinese government's treatment of the Uighur Muslims, and it was taken down. TikTok said this was a mistake.
This has added to the nervousness of governments and security specialists – despite the firm's consistent denials.
All Western social networks, which TikTok says gather similar data on their users, are officially blocked in China.
China has accused the US of spreading disinformation and suppressing TikTok. Both former President Donald Trump and current President Joe Biden believe the platform should be sold to a US company.
DISCLAIMER: The Views, Comments, Opinions, Contributions and Statements made by Readers and Contributors on this platform do not necessarily represent the views or policies of Homebase Television Ltd.
Visit Our Social Media for More
About Author