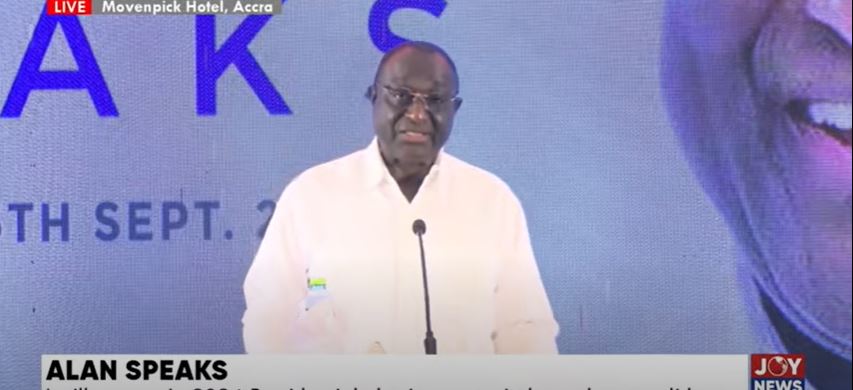 Some residents of Elmina, the maternal home of Alan Kwadwo Kyerematen, the former Minister of Trade and Industry, have described his resignation from the New Patriotic Party (NPP) as self-centred and an overkill.
The residents largely expressed regret over Mr. Kyerematen's resignation, saying he should have considered his many diehard NPP followers who would not necessarily leave years of serving the party to follow him because he was mistreated.
For them, Mr. Kyerematen should have fought harder by resiliently subjecting himself to the party structures to seek redress for all upheavals, regardless of the daunting obstacles along the way.
Though they essentially sympathized with some unfair treatments meted out to him by some faceless party members, they told the Ghana News Agency his resignation was an excessive action.
Mr. Kyerematen on Monday announced that he would contest the upcoming 2024 presidential elections as an independent candidate.
He cited levels of intimidation and monetization that characterized the party's Super Delegates Conference as unprecedented in the history of internal elections of our Party.
The subsequent decisions made by the National Council to vary the rules of procedure for the run-off, arising from the Super Delegates Conference, he said was in direct contravention of both the Constitution of the Party and the Guidelines issued by the Presidential Elections Committee.
He indicated that the decision would go down in history as a travesty of justice, and a demonstration of high-handedness by the highest decision-making body of the Party, second only to the Annual Delegates Conference.
"Under the circumstances and given the context provided, I wish to use this platform to announce that I am honourably resigning with immediate effect from the NPP to contest for the high office of the President of the Republic of Ghana in the 2024 General Election, as an Independent Presidential Candidate," Mr. Kyerematen declared.
However, Mr. Stephen Ofosu, who claimed to be a distant relative of Mr. Kyerematen described his move as bold, and courageous and wished him well.
Nevertheless, he could not fathom why his relative would leave the NPP, having sacrificed decades to sustain its ideals.
"I'm a staunch member of NPP and a religious follower of Mr. Kyerematen because he is my relative, but to sacrifice my years of toil and sweat to follow him in his new political endeavour is a difficult one.
"I don't think he considered us before taking that drastic decision. He is our hope, and so we expected him to fight hard and not to chicken out whilst the soup is hot," Ofosu stated.
Madam Agnes Wilson said Mr. Kyerematen's action had raised questions about his loyalty to the party though it was his principled stand against unfair treatment within the party.
She questioned the timing of his resignation, viewing it as a political move rather than a genuine response to mistreatment.
Many others, including Mr. Samuel Dadzie from Tetelmu and Mr. Kojo Emuna from Bantama, all suburbs of Elmina were indifferent about Mr. Kyerematen's move.
They were unsure of Kyeremateng's claims, while others had a nuanced perspective, which led to a heated debate and discussions among supporters and the public.
Given the seriousness of Kyerematen's claims, they also called for transparency and an investigation into the alleged maltreatment.
The NPP must address the issue and provide evidence to either support or refute Kyeremateng's claims. We expect accountability and appropriate action if the claims are proven to be true, they added.
DISCLAIMER: The Views, Comments, Opinions, Contributions and Statements made by Readers and Contributors on this platform do not necessarily represent the views or policy of Multimedia Group Limited.
Visit Our Social Media for More
About Author