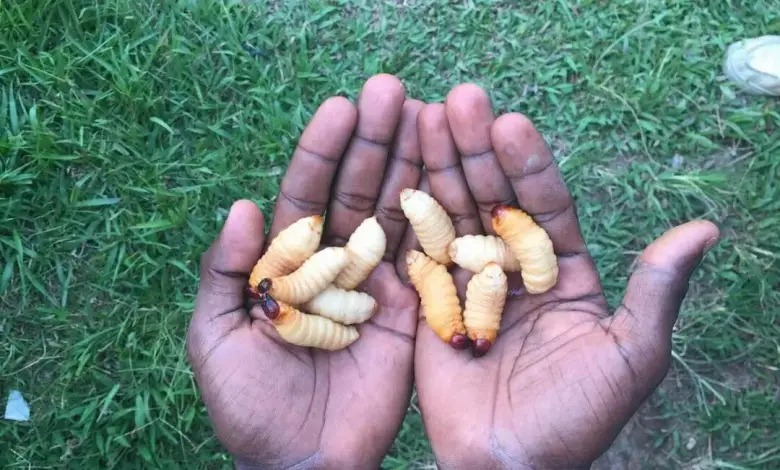 About 20% of maternal deaths in Ghana are caused by iron-deficiency anaemia, while 76% of children aged under two are anaemic and more than four in 10 women aged 15 to 49 suffer from low blood iron levels, according to the 2014 Ghana Demographic Health Survey.
Aspire founded by students from McGill University in 2013, promoting akokono says akokono can provide 96% of the recommended daily allowance of iron compared with only 21% found in every 100g of meat. The UN's Food and Agriculture Organisation says insects contain six times more calcium than meat, too.
As human settlements are severely reducing farmlands for rearing animals drastically, farming of insects like the palm weevil larvae has been gaining prominence in recent times.
Insects are used as a source of protein in some cultures across the world, but few farmers, like Akokono House, in Ghana are engaged in this type of farming.
Akokono, is a great source of protein and is also easy to get as compared with livestock that take months and years to reach maturity for consumption.
Akokono is not sold on the market, as they are taken on the farm from dead palm trees which palm wine has been extracted from.
Research has shown that palm weevil larvae have a higher protein content than eggs, and more importantly, they are easy to breed. It is interesting how Akokono House is tackling the challenge of availability, since most people who would want to patronize the larvae are currently in the cities.
Akokono house, for instance, uses technology and tradition to farm them (palm weevil larvae). Their technology is devoid of palm trees, but have found out what makes them grow in the palm and give it to the larvae, thus they feed on it to grow. And, in this case, they can get access to it every time.
Akokono, science
Akokono kebab
A recent study by Chamoun et al. (2023) agrees that akokono is good for increasing iron content as compared to turkey berries and cocoyam leaves(kontomire). Hence, awareness should be created on the consumption of akokono-based diets.
A previous study by Laar et al.(2017) examines the reason why people eat akokono and found that it is considered a nutritious food. However, a small minority would not consume akokono for religious reasons. Key factors positively influencing the acceptability of akokono as a complementary food were familiarity with the consumption of akokono by the primary caregiver and health worker endorsement of akokono.
Another study by Parkert et al.(2020) evaluated akokono in two "unmixed" forms (raw, roasted) and one "mixed" form (akokono-groundnut paste) for their macronutrient, micronutrient, amino acid, and fatty acid profiles. The study found that a (2 tbsp.) serving of akokono-groundnut paste, compared to recommended daily allowances or adequate intakes (infant 7–12 months; child 1–3 years), is a rich source of protein (99%; 84%), minerals [copper (102%; 66%), magnesium (54%; 51%), zinc (37%; 37%)], B-vitamins [niacin (63%; 42%), riboflavin (26%; 20%), folate (40%; 21%)], Vitamin E (a-tocopherol) (440%; 366%), and linoleic acid (165%; 108%).
Feed experiments indicated that substituting palm pith, the typical larval diet, for pito mash, a local beer production by-product, increased the carbohydrate, potassium, calcium, sodium, and zinc content of raw akokono. Akokono-groundnut paste meets (within 10%) or exceeds the levels of essential amino acids specified by the Institute of Medicine criteria for animal-source foods, except for lysine.
The study concluded that pairing akokono with other local foods (e.g., potatoes, soybeans) can enhance its lysine content and create a more complete dietary amino acid profile. The promotion of akokono as a complementary food could play an important role in nutrition interventions targeting children in Ghana.
Another study by Ayensu et al.(2019) found that biscuits fortified with akokono had no adverse effects and could be a nutritious snack for maintaining acceptable blood levels.
Payne et al.(2016) on the other hand found the nutritional composition of palm weevil larvae to contain high protein, fat, and mineral content.
Economic potential
Studies (Offenberg et al. 2009; Commander et al. 2019;) have shown that palm weevil farming is profitable and a thriving small-scale business in four communities (Bomfa, Asotwe, Doyina and Amoafo-Bekwai) in the Ashanti Region and Jema community in the Brong-Ahafo Region of southern Ghana, where the indigenes were vested with traditional cultivation and harvesting of the larvae from host plants in the wild.
The survey showed that over 48.39% (271) farmers who benefited from the palm weevil larvae breeding training were able to establish, manage, and harvest their larvae at least once within 3–4 weeks, while 51.61% (289) farmers were inactive and could not manage their palm weevil farms successfully. This is an indication that acquiring training for weevil larvae production requires a low level of formal education for the trainee. This also agrees with earlier reports which stated that income earned from rearing and processing of edible insects is generally at the subsistent level in Cameroon and other African countries.
Take home
Studies support that eating akokono increases our blood levels as compared to kontomire, turkey berries, and the rest. This is a viable project for 1D1F to improve the nutritional status of pregnant women and the public at large.
NB:
Prof. Nyarkotey has strict sourcing guidelines and relies on peer-reviewed studies, academic research institutions, and medical associations to justify his write-ups. My articles are for educational purposes and do not serve as Medical advice for Treatment. I aim to educate the public about evidence-based scientific Naturopathic Therapies.
DISCLAIMER: The Views, Comments, Opinions, Contributions and Statements made by Readers and Contributors on this platform do not necessarily represent the views or policy of Multimedia Group Limited.
Visit Our Social Media for More
About Author