Ex-President Jerry John Rawlings has predicted the downfall of the NDC due to certain developments in the party.
According to Rawlings, should nothing be done about what he has noticed in the party, then the NDC leadership and members should be ready for the worse to happen.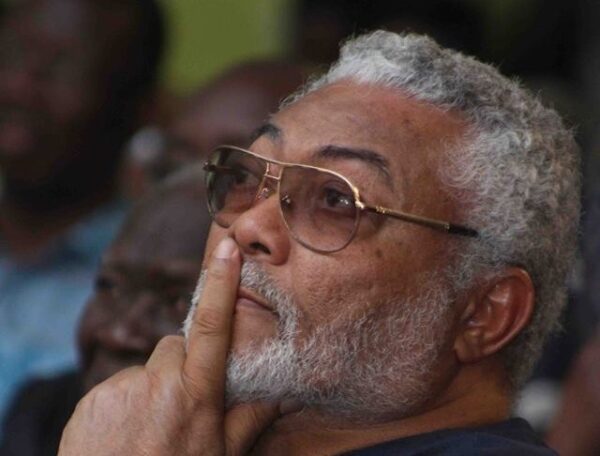 He said this in a statement issued by his Communications Directorate.
Mr. Rawlings, whose tone in the statement denoted anger, addressed Prof. Kwamena Ahwoi, a leading member of the party for making some comments about him.
Read also: Ghana's Politics Does Not Always Produce The Best Candidates -Prof Stephen Adei
Prof. Ahwoi, in his new book and portions published by Ghanaweb, is said to have accused Mr. Rawlings of viciously attacking a former member of the party named Bede Ziedeng.
Bede Ziedeng, then a member of the NDC Elections Committee, according to Prof. Ahwoi, left the party because Mr. Rawlings "squeezed his testicles" during the party's Congress in 2002.
He is said to have suffered this attack because he was opposed to the election of the late President John Evans Atta Mills as flagbearer.
Prof. Ahwoi is also quoted as saying the indemnity clause in the 1992 constitution was to protect Rawlings and all those who worked with him, particularly his group of coup plotters, from having to face prosecution for their crimes.
Mr. Rawlings, in the statement copied to Peacefmonline.com, condemned Prof. Ahwoi's allegations saying "much as I find it tiring and tedious to be engaging in self-defense when I have given my all, all these years, I will soon deal with the callous agenda of bile by the likes of Kwamena Ahwoi, who are desperately seeking control of the NDC party".
He also warned the party leadership of an impending collapse of the NDC.
" . . The NDC could, should and has survived on the authority of the word but if care is not taken, it will collapse and drown as has been happening, on the word of those in authority."
Source: peacefmonline