28 Burkinabes arrested in Ghana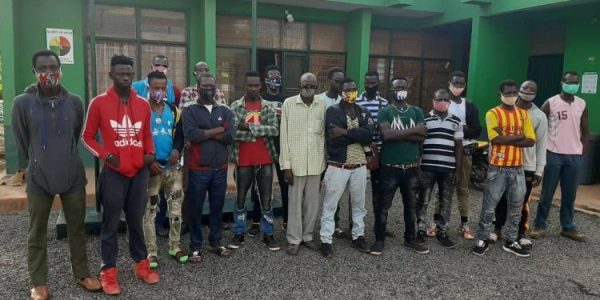 Views: 163
Some twenty Burkinabes have been arrested in Ghana.
The foreign nationals have been apprehended for entering the country through an unapproved route at Hamile in the Lambussie District of the Upper West Region.
The illegal entrants were arrested on Wednesday, July 22, 2020.
The regional command of the Ghana Immigration Service (GIS) said the migrants who are all Burkina Faso nationals aged between 3 and 64 were arrested and they are made up of 19 males and 9 females.
READ ALSO: (Watch Video): Sammy Gyamfi Mocks Akufo-Addo; Says 'No One Watches Fellow Ghanaians' Anymore Because Of Lies
They have since been handed over to the Burkina Faso authorities on the other side of the border at the Hamile post.
Ghana's borders are currently closed and there are several nationals who have tried to enter the country illegally but have been arrested.
Last month the immigration service interdicted some five officers who are said to have aided these nationals to enter the country.