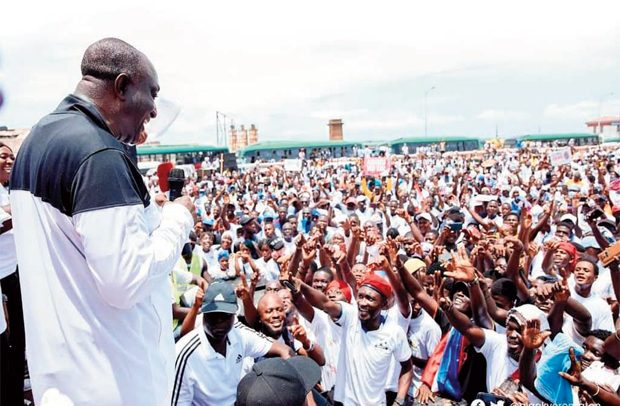 Former New Patriotic Party (NPP) presidential aspirant, Alan Kwadwo Kyerematen, says the concept of an independent candidate becoming the president of the Republic of Ghana though novel, will be the most innovative and revolutionary development in Ghana's political history.
According to him, such a person will be bi-partisan and honest broker amongst different political parties, and will bring healing and reconciliation to the nation's body politic that is currently embroiled in divisive political turmoil.
He said this during the declaration of his intention to quit the NPP and run for president as an independent candidate in 2024.
Mr. Kyerematen who had earlier justified his immediate resignation from the NPP citing the party's fallen standard as a beacon of democracy and the party's hijack by powerful men and their apparatchiks, said his election to the top office will be a watershed development in Ghana's history.
To form a government of national unity, he stated that "Ministers and other key Government officials will be appointed from all Parties, and shall also include individuals who are apolitical but have a demonstrable and proven track record of performance, in their field of specialization."
He noted that what the country needs is not a new political party, but a new leader.
"It is worth noting that the great nations of this world were built on the vision of great leaders and not on the back of political parties," he said.
He added that "In the current political dispensation of Ghana under an Executive Presidency, the President of the Republic represents only one constituency which is Ghana, while different political parties can contest for Parliamentary seats on the ticket of their political parties.
"Electing an Independent Candidate as President, leading a Government of National Unity, will not only bring harmony to the legislature but also facilitate the approval and execution of Government programmes and projects.
"Who better can moderate and lead such a political divide than an Independent Candidate, who has no direct ties with any existing political parties!!"
Meanwhile, Alan Kyerematen has called on the rank and file of the NPP and NDC, and other smaller parties to support his candidacy as he strives to achieve his 'Government of National Unity.'
"I wish to use this opportunity to assure the rank and file of the New Patriotic Party that I still cherish my relationship with you, and I am committed to the ideals of the founding fathers of the Party. My decision to contest as an Independent Candidate will not destroy the Party, but rather provide the Party an opportunity to participate in a Government of National Unity in the future, and avoid the risk of going into opposition with no dividends, in what arguably will be a difficult general election in 2024.
"You can vote for your preferred choice of NPP Parliamentary Candidate and vote for Alan John Kwadwo Kyerematen in the Presidential elections in December 2024, to become the sixth President of the fourth Republic of Ghana.
"To the rank and file and sympathizers of the National Democratic Congress (NDC) and to my friends in leadership positions in the Party, please note that if elected as President, I will also be President for NDC. You will be better off avoiding the risk of remaining in opposition if you do not win the 2024 General Election, and rather participate in the Government of National Unity by voting for Alan Kyerematen as President in December 2024.
"To the rank and file and my friends in the smaller Parties and other political organizations, please let us join hands to unite Ghana for our collective benefit," he said.
DISCLAIMER: The Views, Comments, Opinions, Contributions and Statements made by Readers and Contributors on this platform do not necessarily represent the views or policy of Multimedia Group Limited.
Visit Our Social Media for More
About Author