You can run but can never hide – Police warn criminals
The Police have warned the many criminals roaming across the country that their days of committing atrocities are numbered.
The Police said they will leave no stone unturned to ensure such rogue elements are arrested and are made to pay for their crimes.
In a press statement signed by the Director of Public Affairs, Supt. Alexander Kwaku Obeng, the Police said, "All criminals and their cohorts must advise themselves and know that they can run but they can never hide. The Police will do whatever it takes to come after them and bring them to justice."
The Police have noted that it is committed to ensuring a secure and safe environment for Ghanaians.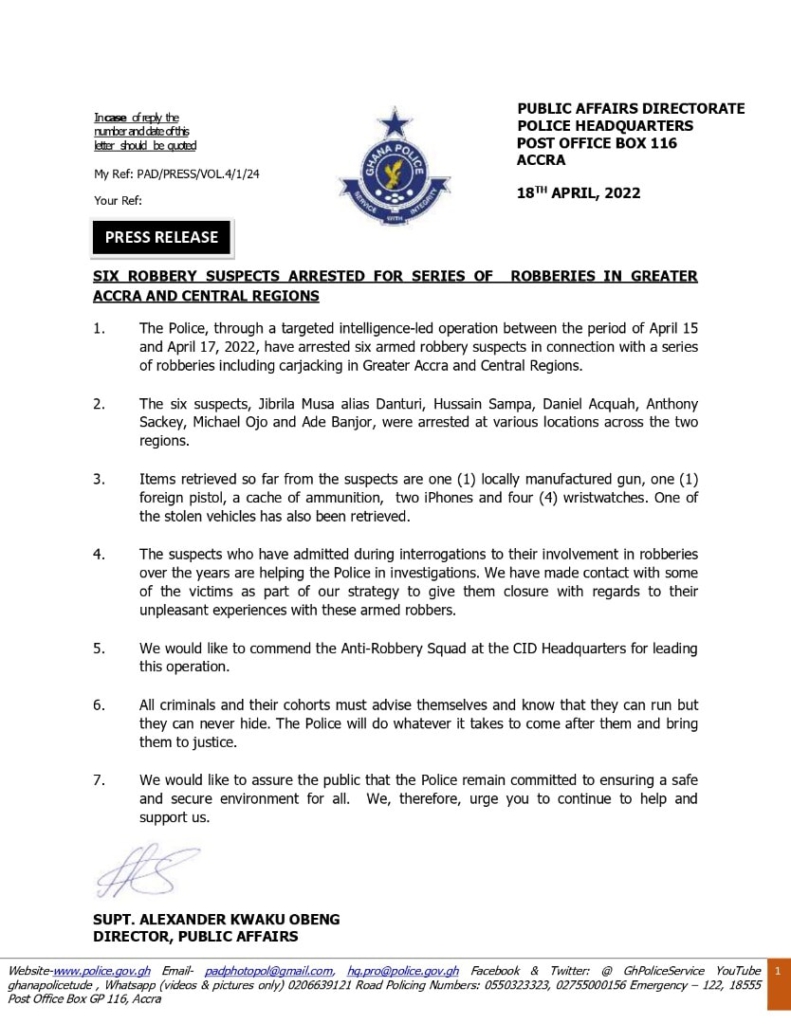 The Police gave the assurance following the arrest of six robbery suspects believed to have orchestrated a series of robberies, including carjacking in the Greater Accra and Central Regions.
The arrest was made through a targeted intelligence-led operation between April 15 to April 17, at various locations in Greater Accra and Central Regions.
The six suspects are Jibrila Musa alias Danturi, Hussain Sampa, Daniel Acquah, Anthony Sackey, Michael Ojo and Ade Banjor.
Meanwhile, the Police have entreated the public "to continue to help and support us" as they would work to rid the country of criminals.
Visit Our Social Media for More