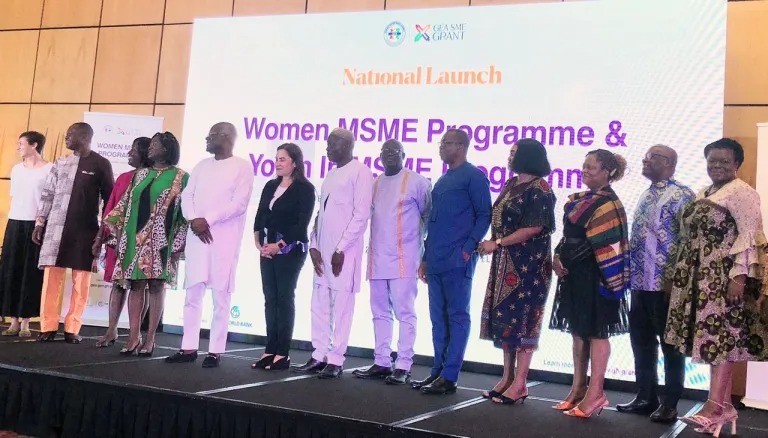 Micro, small and medium enterprises will soon benefit from a 100-million-cedi fund under the Ghana Economic Transformation (GET) Project.
Speaking at the launch of the Women and Youth in MSME Programme by Ghana Enterprises Agency, Minister for Trade and Industry, K.T Hammond disclosed that ¢40 million of the amount will be allocated for capacity building while ¢60 million will be used to support the youth.
Minister for Trade and Industry, K.T Hammond gave a breakdown of how the fund allocated to the programme will be utilized.
"It is significant to note that about ¢100 million of grant earmarked under the GET Project for the two programmes launched. GHc40 million is allocated for training and capacity building for the Women MSME Programme while balance of ¢60 million to support young persons between the ages of 18 and 35 under the Youth in MSME Programme," he said.
The Ghana Economic Transformation Project in partnership with the World Bank is aimed at promoting private investments and firm growth in non-resource-based sectors.
The Ghana Enterprises Agency launched the Women and Youth in MSME Programme under this project to ensure an all-inclusive approach. Chief Executive Officer of the Ghana Enterprises Agency, Kosi Yankey Ayeh explained why this tranche of funding comes with the condition that beneficiaries undergo training.
"Our interventions have been to really build capacity and also provide access to funding. The access to funding component is important but what is most important is the technical assistance capacity that these interventions provide. Over the years a lot of MSMEs ask for funding but looking at the businesses of youth and women, we think it's necessary and important that technical assistance and capacity development is at the forefront of the trainings and tools we provide to build and lift these interventions and businesses. So in this pool of training and support for the women and youth MSMEs, we'll provide training in business and financial management and this training will assist them to plan and roll out their businesses better," she highlighted.
Deputy Finance Minister, John Kumah indicated that the launch of the Women and Youth in MSME Programme is reiteration that government will continue to help small businesses even during challenging times like the country is currently facing.
"We live in a world where inclusivity and equal opportunities are paramount. We recognise the immense potential and talent that women and entrepreneurs possess and it is our duty to create an environment where their aspirations can thrive. We affirm our commitment to fostering economic growth, reducing unemployment and driving sustainable development through these vital initiatives," he assured.
DISCLAIMER: The Views, Comments, Opinions, Contributions and Statements made by Readers and Contributors on this platform do not necessarily represent the views or policies of Homebase Television Ltd.
Visit Our Social Media for More