Wenchi Agriculture College in the Wenchi Municipality of the Bono Region has held its maiden matriculation ceremony for fresh students for the 2020/2021 academic year.
Vice Principal of the school in his welcome address said one hundred and fifty-two fresh students out of 200 qualified candidates gained admission to pursue various Agriculture programs at the Wenchi Agricultural College.
Mr. Anthony Boadu Tawia, the Vice Principal of the College, who announced this said a total of 97 candidates comprising males and 55 females.
He however said the College is currently running two programs, namely 1-year Vocational Training in Agriculture and 2 – year Certificate in General Agriculture.
Advertisement. Scroll to continue reading.
He stated that 120 students were admitted to pursue a 2year Certificate in General Agriculture while 32 students were also admitted pursuing Vocational Training in Agriculture.
Mr. Anthony Boadu Tawia admonished that the ultimate goal of the college is to become an autonomous degree-awarding institution, the preferred institution of higher learning this according to him, believes strongly that with the help of the Wenchi Traditional Authorities and the Wenchi Municipal Assembly they can achieve the goal.
The Akyeamehene of Wenchi Traditional Council, Nana Damoah Koasane Adusi Poku Kofabae IV on behalf of the Council congratulated the freshers and urged them to develop their knowledge and competence in agriculture and other areas that would be useful to farmers.
Read Also:
He also assured the college that the council is ever ready to acquire them any land for future developmental projects.
Mr. Laweity Tetteh, Director of Human Resource Development and Management Directorate of the Ministry of Food and Agriculture told the students to count themselves blessed because it was a rare opportunity they had obtained to gain admission over their counterparts, who also qualified but could not have the chance.
He also encouraged the students to focus on their studies on campus and to become great agric officers and entrepreneurs in the future.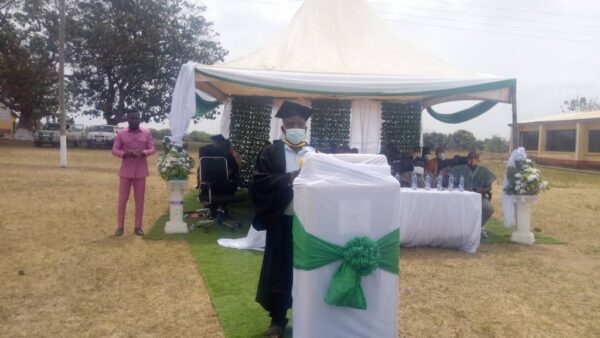 Mr. Laweity Tetteh again urged them to conduct themselves very well and refrain from acts that would tarnish the reputation of the college.
History of Wenchi Agriculture College:
Historically, Wenchi Farm Institute, now Wenchi Agriculture College was established on 17th January 1964 some 57 years ago.
Advertisement. Scroll to continue reading.
Its mandate then was to train the youth in Vocational Agriculture to feed the Ministry of Agriculture and related organisations in the capacity of Technical and farm Assistants.
Its also trained officers in the forces including, Police and Prisons, to man their farms.
Additionally, Military Officers who were due for retirement were also sent there to acquire skills in agriculture to keep them busy while on retirement.
As the years went its mandate expanded to include the training of prospective farmers, farmer-based organisations, and community-based organisation on appropriate modern farming techniques and methods to enable them to establish their own farms and take responsibility as agribusiness practitioners for improved livelihood.
The ceremony was highly attended by departmental heads, opinion leaders, the Clergies among other dignitaries.
Source: Radio West Africa | Nana Anfreh Damanta