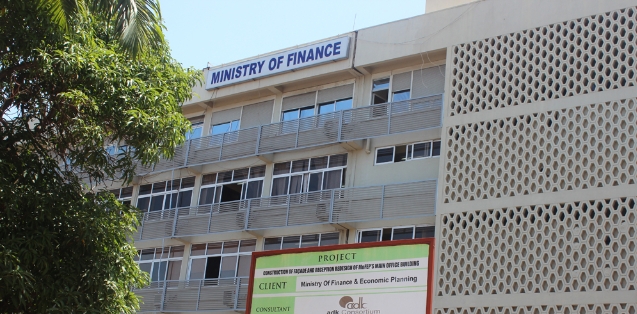 On Thursday, two young girls joined their grandmother and other Pensioner Bondholders demanding payment of their coupons to picket the Ministry of Finance.
Speaking to JoyNews, they said that their grandma struggles to pay their fees and that they fear getting sacked from school if it is not paid in full.
The young girls noted that they joined their grandma to picket to demand their grandmother be paid so they could be fed and their fees paid.
Meanwhile, the older woman told JoyNews that she has more grandchildren, some at school and others whose fees she has not been able to pay because her money is locked up in bonds.
"When the new academic year starts I have no money to pay school fees again. We have already been told by the school that the bus cannot pick one of them so she has to walk to school. She is begging us, she cannot walk because it is very far…These are not the only grandchildren I have, if I don't fight and help my grandchildren who will?"
She noted that she cares for some children of her workers as well, however, things have become tough for her after the government failed to deliver on the promise to honour due coupons.
She told JoyNews that she fears all her grandchildren may have to drop out of school should government fail to pay the coupons.
"People sitting in their big offices, holding Bibles in one hand and wearing white clothes, do they care who they are hurting? Look at all the old people here, is it right? On Christmas Day we went to Children's Hospital to give the kids gifts only to hear that night they are taking our bonds."
"What will the children eat? Those people can't buy medicine, who will buy it for them? They have taken my money, my family's money…you are not only affecting old people but the future generations. Where is your heart? Where is your compassion?"
She told the government she and many other bondholders will not stop picketing until their coupons are paid, stating that most of them have so many responsibilities on their shoulders.
This comes after the Pensioner Bondholders Forum last week advised the government to seek funding from the Treasury Bills market to settle their matured investments.
The government had promised to pay the bondholders who did not participate in the Domestic Debt Exchange Programme (DDEP), but the Finance Ministry failed to make the settlement.
In an earlier interview, the convener of the Pensioner Bondholders Forum, Dr. Adu Anane Antwi said his members are struggling to survive due to the economic conditions.
"We are saying if the government does not have anything at all, Treasury Bill market is still there, they need to pay people because this is life and death," he told JoyNews.
"We are pensioners, we need this money for important things such as drugs and upkeep, after serving the nation, you don't expect pensioners to go through this ordeal for their own money", he lamented.
DISCLAIMER: The Views, Comments, Opinions, Contributions and Statements made by Readers and Contributors on this platform do not necessarily represent the views or policies of Homebase Television Ltd.
Visit Our Social Media for More
About Author