Prof George Gyan Baffuor Leads NPP Youth Wing " Walk 4 Agenda Double Win" In Wenchi
Views: 376
Read Time:
1 Minute, 34 Second
The Minister for Planning who double as a Member of Parliament for Wenchi Constituency, Hon. Professor George Gyan Baffour on Saturday,25th September,2020 led the NPP youth wing in a walk dubbed "Walk 4 Agenda Double Win" in Wenchi of the Bono Region.
The walk was aimed at canvassing support for the party President Nana Addo Dankwa Akufo-Addo and the MP, Hon. Professor George Gyan Baffour towards the December 7 general election.
Addressing party stalwarts, Prof. George Gyan Baffour said the NPP government under the leadership of Nana Akufo-Addo has performed very well in the three and half years as compared to the National Democratic Congress (NDC).
Let not anyone deceive you to vote against NPP and vote for NDC, because they have nothing good to offer Ghanaians he reiterated.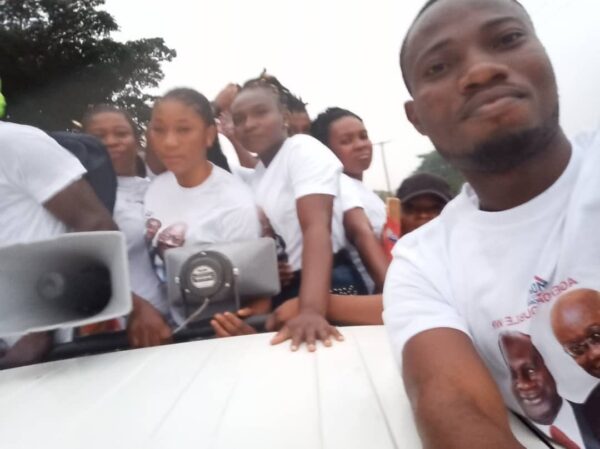 Read also: The EC Time Of The Exbihition Exercise Is Limited- Elvis Afriyie Ankorah
Professor George Gyan Baffour urged the youth to rally behind him and Nana Addo Dankwa Akufo-Addo and the elephant party for more jobs and prosperity to better their lives.
He also make a passionate appeal to the youth to avoid the "skirt and blouse" pattern of voting in the forthcoming election.
A true member of the elephant family will not contest as an independent candidate, anyone who is contesting as an independent candidate has dismissed himself or herself from the NPP party Professor George Gyan Baffour lamented.
He pledged his commitment to Foster bring more development in the constituency and called on the youth to give him and Nana Addo Dankwa Akufo-Addo another 4 years to do more.
The walk set off from the Wenchi Jubilee park went through the principal streets of Wenchi township.
Source: Radio West Africa, Nana Anfreh Damanta.