The Upper East Regional Minister, Ms Tangoba Abayage has booted out the Minister of Aviation, Mr Joseph Kofi Adda in the Navrongo Central constituency primary of the New Patriotic Party (NPP).
ElectionBillboard – NPP Primaries Election 20/6/20 –The Upper East Regional Minister, Ms Abayage on Saturday made history when she defeated the sitting Member of Parliament for Navrongo Central.
She polled 307 votes as against Mr Adda's 266 votes. Rejected ballots were six with total valid votes cast 573.
Going forward, Ms Abayage would become the first female to occupy the Navrongo Central seat if she is able to go ahead and beat the candidate that the National Democratic Congress (NDC) would present at the parliamentary elections in the December polls.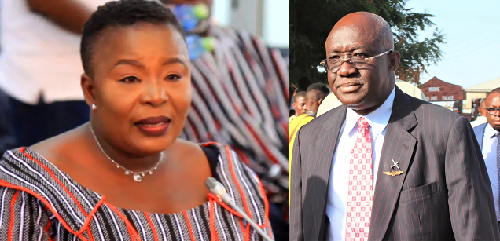 In the Zebilla Constituency, the current MP and Deputy Upper East Regional Minister, Mr Frank Adongo Fuseini polled 323 votes to defeat his only contender Dr John Kingsley Krugu, a Development Worker who got 280 votes.
There were two rejected votes with 603 as the total valid votes cast.
However, in the Tempane Constituency, there was no voting because the sitting Member of Parliament for the area and a Deputy Attorney General, Mr Joseph Dindiok Kpemka, is going unopposed.
In all about 1524 NPP delegates voted in a total of 69 electoral areas and 233 polling stations in the Navrongo Central and Zebilla Constituencies in the Region.