Ann. The Senior Minister, Yaw Osafo Marfo has cut sod for the construction of a 70 million Euro water project to increase water production capacity in the Western Region.
The Regional Minister Kwabena Okyere – Darko Mensah said, there has been the need to rehabilitate and expand the system due to the increase in water demand in Western Region. The project which will increase capacity by 100,000 cubic meters per day and will serve as a distribution extension to newly developed areas.
He further stated that the increase in capacity will be enough to meet demand up to the year 2040 for an estimated population of 1.4 million.
According to him, the project will improve water supply in several areas like; New Takoradi, Kansaworado, Effia, Effiakuma, Tanokrom, Anaji, Fijai, Mpatafo, Adientem, Esikafoamantem no 1,2,3, Kajebil, Ajua, New Amanful, Essikado, Air force area, Beach Road, Chapel Hill, Harbour area and its surrounding area.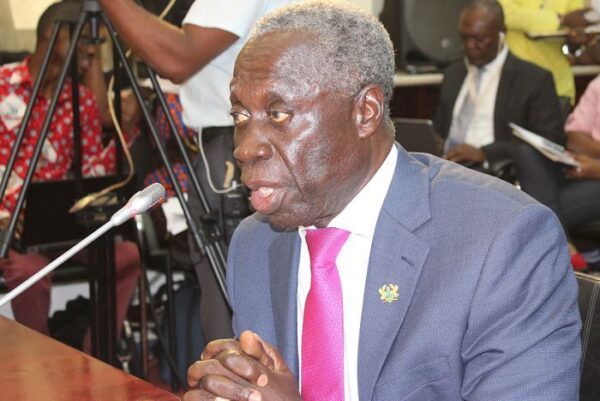 Read also: Martin Amidu Resigns As Special Prosecutor

The Managing Director of Ghana Water Company in the Western Region, Dr. Clifford Braimah said, the project is aimed at bringing potable water supply to the people of Sekondi Takoradi and its surroundings.
According to him, the project includes accommodations and offices for staff at Daboase.
He also revealed rehabilitation and expansion works that happened at the Sekondi Takoradi water supply system in 2004 and the water supply after that became 45000m3 per a day that is 9.9million gallons per a day but the current production due to some activities along the river banks is only 3000 cubic meters per day that is 6.6million gallons per day.
The Senior Minister speaking on behalf of the President said, the Government is much concerned about the developments of the Western Region and therefore has a water crisis at heart.
According to him the funding of the project was from Commerzbank AG of Germany and the contract, awarded to STRABAG of Australia. The project will take between one and two years to complete. Yaw Osafo Marfo advised all beneficiary communities to protect the infrastructure