Re-appoint Otto Addo and give Black Stars quality friendly matches ahead of World Cup – Coach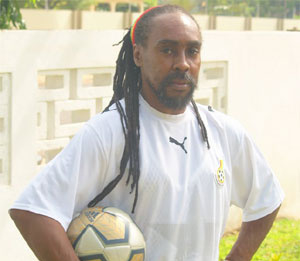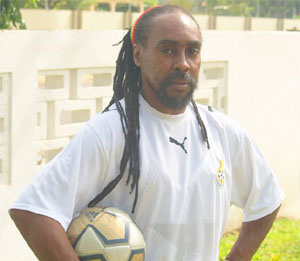 Ghanaian coach and football pundit, Nana Kwaku Agyemang, is calling for reappointment of Otto Addo and the technical team that led Ghana to qualify for the 2022 World Cup in Qatar.
According to him, this should be part of the immediate preparatory measures for the Black Stars ahead of the team's participation in the mondial this year.
Speaking in an interview with Evans Mensah on Top Story on Friday, the former manager of Swedru All Blacks also stated that, in order for the Black Stars to give a good account of themselves in the tournament, the team should play very worthy opponents in their friendly matches, during their preparations.
"We're looking at countries that we've played before. We beat South Korea in the last time that we played them. They've developed more now. They're tricky [but] nothing to worry about if the preparation is right. We've got a brand new bunch of boys now, and that's where the focus needs to be.
I said earlier in the week that we need to ensure that all the FIFA friendly days are soaked up with quality friendlies so that we get to have a look at the other players, we're yet to actually see introduced to the Black Stars.
Right now, we don't have any coaches, because the contract is over. That's the first thing we need to. Not to waste time, reappoint all of them and pay them what they want to be paid, and let them get on with the job and support them", he added.
His remarks were in reaction to the Black Stars World Cup Draw on Friday, where they were pitched against Portugal, Uruguay and Korea in Group H.
Expressing his belief in the squad, he further stated that, the team must be groomed and thoroughly assessed to identify all the loopholes.
According to him, certain departments of the Black Stars, such as the team's striking prowess and goal-scoring proficiency, must be looked at.
Touching on facilities and logistics, he called for more conducive training stadiums to aid the preparations of the senior national team.
Speaking on the show, Former Director of Communications of the Ghana Football Association (GFA), Ibrahim Saani Daara, also expressed optimism in the ability of the Black Stars of Ghana, to qualify from the group stages of the 2022 World Cup in Qatar.
According to the former GFA Spokesperson, the senior national team have what it takes to excel beyond the preliminary stages of the competition, which is scheduled to begin in November this year.
Mr. Saani Daara indicated that, even though Ghana's placement in Group H, poses a challenge, the team can progress if the handlers put relevant measures in place.
"It's a good draw. All these three teams, we've played them before. And when we played them, we gave a good account of ourselves, and I think that with the right preparations and the right approach and praying that our squad is injury-free, we'll be able to make it to the second round of the World Cup.
I'm very very confident. If we prepare well, we have sanity and serenity in camp and there are no distractions, the boys will be determined to be able to do something", he said.
Mr. Daara added that, "Portugal, yes, they were in Port 1 of our group, so therefore you'll obviously expect them to be global giants, but they're not the giants that they were few years ago.
Most of their players that we know are ageing. Somebody like Cristiano Ronaldo, Pepe and co are a bit passing their prime. So when they meet young players, it's going to be very very difficult for them".
He also urged the media and supporters to tone down on commentaries and narratives that will create an unhealthy psyche for the team ahead of their appearance in the tournament.
Meanwhile, scores of Ghanaians have taken to social media to express their views on the possibilities that await the Black Stars.
In a series of comments on Twitter, many football-loving fans have turned their attention to Uruguay, owing to Ghana's infamous World Cup quarter-finals match against Uruguay in 2010.
According to them, Ghana is up for a revenge against the Sky Blue of Uruguay in Qatar in November.
Ghana's journey to the World Cup
After eight years without an appearance on the world's biggest international stage, Ghana has made a return to the 2022 World Cup to be hosted in Qatar.
Drawn in a group with South Africa, Ethiopia and Zimbabwe it did not come as an easy task. Ghana began its World Cup qualifiers on September 3rd, 2021, at home against Ethiopia.
Mubarak Wakaso's 35th-minute goal was enough to secure the Black Stars its first win of the qualifiers.
Three days later Ghana had to face South Africa at the FNB Stadium in Johannesburg but unfortunately lost to Bafana Bafana by a 1-0 scoreline.
Returning to play at Cape Coast stadium on the 9th of October 2021, the Black Stars had a convincing 3-1 victory against Zimbabwe and went to Harare to secure a 1-0 victory as well.
Ethiopia after losing to South Africa home and away needed to find themselves back in contention for the only qualification spot. Playing at the Orlando Stadium in Johannesburg, a neutral ground. Both nations went home with the points shared after a 1 -1 draw.
It came down to Ghana and South Africa fighting for first place to qualify for the next round. Ghana came out victors at the Cape Coast stadium.
Drawn against Nigeria in the playoff round of the qualifier, Ghana drew goalless at Baba Yara Stadium and qualified on the away goal rule in Abuja after a 1-1 draw.
Visit Our Social Media for More