Parliament Okays Report To Pass Imposition Of Restrictions Bill Under Certificate Of Urgency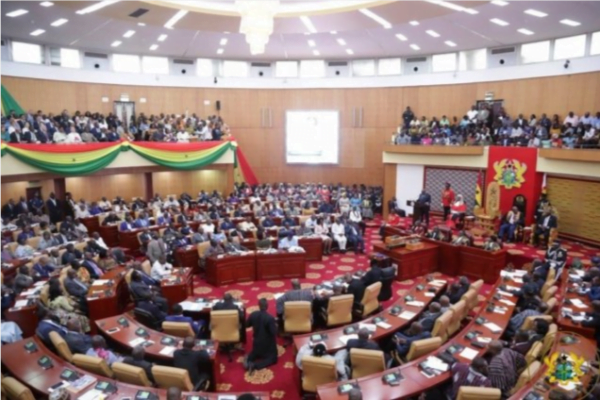 Views: 177
Read Time:
1 Minute, 28 Second
Parliament has approved the report of the Constitution and Legal Affairs Committee, recommending that the Imposition of Restriction Bill 2020 is passed under a certificate of urgency.
The Bill does not deal with the issue of the coronavirus spread but rather seeks to broadly restrict freedom of movement.
Earlier, members of the Minority had demanded that the Bill should be withdrawn arguing that it did not meet the requirement of urgent business.
"Those of us in the Minority are of the opinion that the Bill as presented does not demonstrate any urgency for purposes of which we have to consider it under urgent circumstances. This is because there is nowhere in the Bill that coronavirus is mentioned," South Dayi MP, Rockson Nelson Dafeamekpor, told JoyNews.
The Minority member on the Committee on Constitutional and Legal Affairs continued: "They only brought a Bill regarding broad emergency powers to be given to the President and we think that they ought to be very specific. If you enact a Bill into law, giving the president broad powers, any unscrupulous president can misapply it."
But the Deputy Attorney-General, Joseph Kpemka, in defence of the government, said the Bill in its current state, is the best for the country but can be improved by Parliament if the House wishes.
"The president is not operating in a vacuum. He is operating within a legal framework and if we do pass this into law and implement it and anybody finds that the president is abusing the law or his discretionary power, they can go for a pronouncement by the court to declare that to the extent that the president's conduct or actions are contrary to statutes or law of the constitution, then they are a nullity," he explained.