Palm wine music keeps us going – Kwan Pa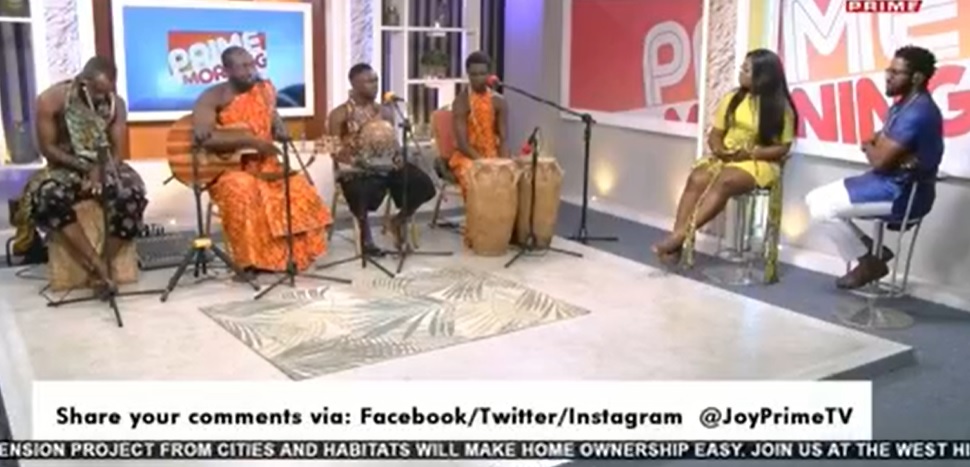 Palm wine music has been championed in Ghana for the past five years by Kwan Pa music led by Hassan.
Other members of the band are; Kwabena Safo, Nanay Oweni and Kwame Agbahoasi Minamo. Their roles are; music vocals and playing of various local instruments like the twin bell, kobe, rattle etc.
In an interview with KMJ and Roselyn Felli on Prime Morning on Friday July 29, 2022, Hassan disclosed that the acceptance of their brand and music wasn't from the onset .
He also explained the meaning of Kwan pa which is Right Path.
"Basically, we realize there are a lot of beautiful traditions we are leaving behind, some that have been lost already. So we decided to go back in time, pick the beautiful things we left behind and move forward. So we are moving on the right path in time to bring the beautiful songs that have been left in the past hence the right path to bring right things," Hassan said.
He stated that the Kwan PA band mixes palm wine music with contemporary music in order to get the attention of the youth. He also made mention of the celebration of their 5 years in existence at Zen Garden and also the release of their song, Immediate effect, which is already out and the shooting of its video will be done on Monday.
Hassan disclosed that the band will release its full six (6) track EP on 9th September and a full twelve (12) track album in February, 2023.
Visit Our Social Media for More