A new public washroom situated in Sefwi Wiaso in the Western-North region has been left untouched as the awarders of the contract, Ghana First have disappeared without paying the contractor.
Mr. Nicholas Ankela has lamented on a phone interview with Homebase Tv on how a washroom which was awarded to him in 2018 has left him in regret as the awarders of the contract are nowhere to be found when they are yet to settle the bill
The contractor said Ghana First had given him and a colleague the contract to build a 20-seater and 14-seater washroom with the deal to pay the contractors their money after the washrooms were 60% through.
Mr. Nicholas Ankela stated that he was the one with the 14-seater washroom contract and after reaching 60% in the construction, he and his colleague went in search of Ghana First, but the contractors were nowhere to be found and all their offices were closed.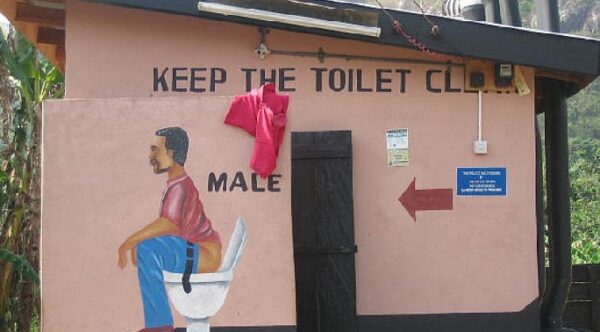 Mr. Ankela disclosed he took a loan of 1.8 million Ghana cedis to complete the 14-seater washroom which is entirely different from the GHC 15,000 he and his colleague paid Ghana First for the contract they were given. The fifteen thousand he said the Ghana First explained to be an insurance for workers like masons who will build the washrooms
The washroom is now complete but not open as the land on which the building is belongs to the assembly.
Read Also:
Mr. Ankela also revealed that he tried to reason with the assembly to allow him to operate the washroom for 20-30 years to earn back the money he has invested in it or better still, the assembly to sell the plot of land on which the washroom is  to him, but both options have been rejected by the assembly
As the assembly is not interested in any of the options, the washroom remains closed.
Ghana First is a private organization established in 2012 with the acclaimed vision to ensure sanitation in the country and promote public health.
Source: Jean Aryee | Hbtvghana.com