Lockdown to pose sanitation challenge as less than 50% of Ghanaians have water, toilets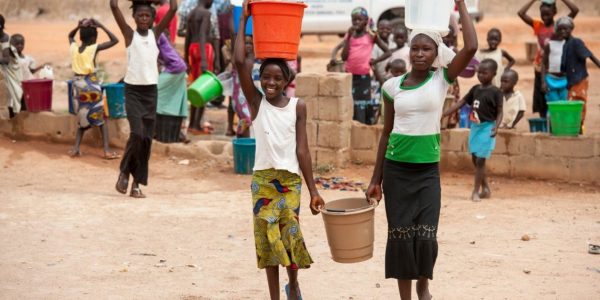 Views: 139
Read Time:
2 Minute, 36 Second
An Afrobarometer report has revealed that less than 50 percent of Ghanaians have access to water and toilets, which is a major problem since a lockdown is already in effect in the country due to the novel coronavirus.
The survey, conducted in late 2019 before the COVID-19 pandemic revealed that Ghanaians are ready to accept restrictions on their freedom of movements, such as curfews and roadblocks, in times of security threats.
In the report, most people in the Ashanti Region were prepared to accept restrictions on their rights to free movement but acceptance was lower in the Greater Accra Region.
However, the survey indicated that a lockdown is likely to pose sanitation challenges since most people do not have access to water and toilet facilities.
The 2019 report revealed that "that only three in 10 Ghanaians (30%) have piped water inside their houses or in their compounds. One-third (33%) depend on public taps or standpipes for their water needs, while 37% rely on other sources, such as a well, a spring, bottled or "sachet" water, surface water, etc."
"In addition, fewer than half (46%) of Ghanaians have a toilet or latrine in their house or compound. A majority (54%) use latrines outside their compounds or have no access to latrines."
"Urbanites are three times as likely as rural residents to have access to piped water inside the house or the compound (44% vs. 14%). However, almost the same proportions in both urban (30%) and rural (33%) settlements depend on public taps or standpipes for piped water. As might be expected, access to piped water in the house or compound decreases with one's experience of poverty (37% among the best-off vs. 24% of those with high lived poverty)," it revealed.
Read Also: COVID-19: France lockdown sees rise in domestic violence cases
Linking the survey to the current situation at hand, Afrobarometer said it will be difficult for people under this circumstance to practice World Health Organisations' (WHO) and the Ghana Health Service's (GHS) directive on frequent handwashing under running water and proper hygiene as the best protective measures against the spread of the virus.
"Comparing the two lockdown regions, residents in the Ashanti region are far less likely to have piped water in their houses or compounds than those in Greater Accra (39% vs. 62%). About equal percentages get their water from public taps or standpipes," the Afrobarometer survey showed.
President Akufo-Addo on March 27 announced a partial lockdown as measures to curb the spread of the pandemic in the country. Following that, he stressed that people can go in for essentials like food, medicine or visit toilet facilities during the lockdown.
Afrobarometer acknowledged the president's decision in allowing the vulnerable to go out for some basic amenities during the lockdown.
"Little wonder that in his announcement of the lockdown, the president granted persons in the affected areas some exemptions to enable them to procure essentials (which is likely to include water for those who access it from public standpipes), go to the bank, or use a public toilet," it said.