Keta Assembly presents 200 dual desks to Education Directorate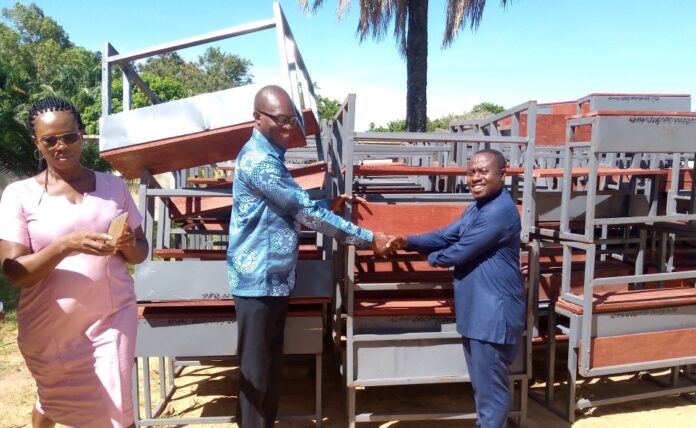 The Keta Municipal Assembly has presented 200 dual desks to the Municipal Education Directorate for onward distribution to schools across the municipality to address furniture challenges.
They would be distributed for use in about 37 Basic Schools with a focus on those in the hinterland areas of the municipality.
Mr Emmanuel Gemegah, Municipal Chief Executive for Keta in presenting the desks said it was a Ghana Education Trust Fund (GETFUND) initiative aimed at supporting the furniture needs of schools nationwide.
He said the Government's commitment to the education sector was not in doubt and that with the support and prayers of citizens, government would provide more infrastructure needs of schools to address challenges impeding effective teaching and learning.
Mr Gemegah called on the directorate to relook at over-staffing in schools in the urban areas and under-staffing in those in the rural areas and ensure an even distribution of teachers in schools in the Municipality for effective academic work.
The MCE assured that the assembly was making efforts to tackle accessibility problems in rural Keta to make the lives of residents and staff there a bit more comfortable.
Mr Gerhard Avudzivi, Municipal Education Director, Keta who expressed gratitude for the intervention, said the desks were woefully inadequate as the furniture challenge faced in basic schools in the Municipality was huge.
He said there were schools needing about 20, 40, 50 desks but what was available for distribution to the about 37 basic schools would only permit schools getting from one desk to 17 desks to ensure they all had a share.
He promised to ensure that beneficiary schools took proper care of the desks to make them last longer in the interest of both current and future pupils of the schools.
Visit Our Social Media for More