IFEJ-Flamingo Awards: Masahudu Ankiilu Kunateh Wins Ultimate Prize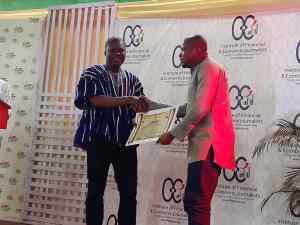 Views: 1631
Read Time:
3 Minute, 21 Second
Masahudu Ankiilu Kunateh, the Editor-In-Chief of African Eye Report, a leading Pan-African economic, business, banking and finance, and energy news website, has emerged the ultimate winner of  this year's Institute of Financial and Economic Journalists (IFEJ)-Flamingo Awards.
 He beat a stiff competition to win the overall Best Economic and Financial Journalist of the Year at the sixth edition of the IFEJ-Flamingo Awards held in Accra.
 Mr Kunateh's  award winning article titled: "Can Agribusiness Reduce Poverty in Ghana?", which won the overall award cleverly demonstrated how the agribusiness and agric sector are contributing to the reduction of poverty in the country.
He also won Best in Development and took home a citation and a plaque.
Prizes
He took home a plaque, a citation, Ipad donated by the World Bank. Mr Kunateh will also undertake an all-expenses-paid trip to the IMF and World Bank Spring Meetings in April this year, courtesy the World Bank.
Speaking after being crowned the Overall Best Economic and Financial Journalist of the Year 2019, Mr Kunateh urged his journalists to always do research before writing their stories.
According to him, researching on topics before writing will enable them to understand the topics very well thereby producing good stories.
Mr Kunateh reminded the journalists especially his colleague economic and financial journalists to endeavour to comprehensively analyze the manifestos of the various political parties going into the November or December 2020 elections to enable Ghanaians choose the best party with the best ideas to transform the country.
He also used the opportunity to the management of IFEJ and juries of the awards for the honour done him and his team at the African Eye Report.
Other winners
They award winners were- Mrs Franscisca Arhin of GhOne TV, won the Best in Business Manufacturing. She took away a citation and a plaque and a double door fridge.
Charles Benoni Okine, Graphic Business won the Best in Finance. He went home with a citation and a plaque and a plasma TV.
Ms Jessica Acheampong of Graphic Business also won the Best in Oil and Gas. She received a citation, a plaque and other prizes.
While Mrs Ama Achia Amankwah Baafi  of Graphic Business won Best in ICT and she took home a double door refrigerator, a citation and a plaque.
Also Emmanuel Bruce of Graphic Business won Best in Local Economy, he took home a double refrigerator, a citation and a plaque.
Malvin James Dadzie, New Crusading Guide won Best in Tourism. He received a citation and a plaque and a refrigerator.
Dr Kwesi Korboe, an agribusiness expert who was the guest speaker, said agribusiness is very critical for the achievement of the UN Sustainable Development Goals (SDGS).
He added that agribusiness goes beyond the normal production to value additions.
Prof. John Gatsi, Chairman of the Awards Jury, said 33 total entries were received for all nine categories, but only seven categories qualified for awards.
On his part, Managing Director of Bulk Oil Storage and Transportation Company Limited (BOST), Edwin Provencal, who chaired the awards night entreated journalists to pay greater attention to agric and agribusiness reporting.
The theme for the awards ceremony: "Towards Agribusiness and Sustainable Development Goals".
Instructively, the Institute of Financial and Economic Journalists (IFEJ) was formed in 1990 to help develop the skills of journalists in business and financial reporting.
One of the objectives of the institute is to advance the study, development and application of improved financial and economic communication methods through appropriate hands-on approaches and platforms.
Over the past years, the Institute had lived up to this objective and positioned itself as an effective organisation that provides and promotes co-operation, common understanding and exchange of ideas in the field of economic and financial journalism.
This objective enabled members of the Institute to attend various workshops, seminars, roundtable discussions with captains of industry and commence as well as with government and non-governmental organisations on another various aspects of the economy.
Source: African Eye Report