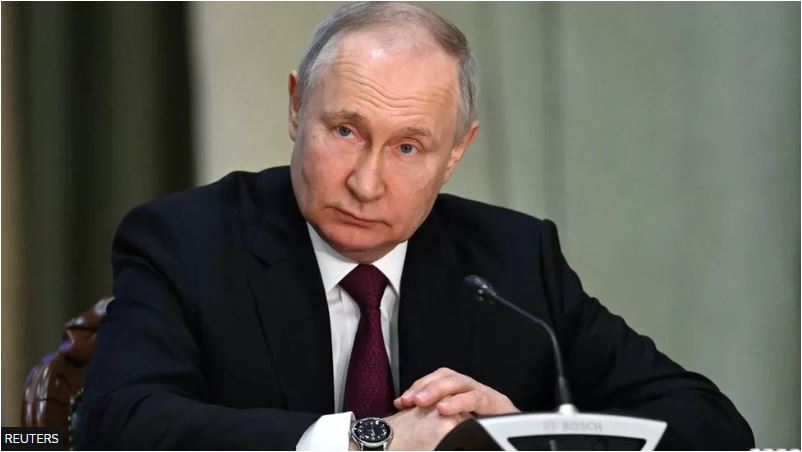 Vladimir Putin could now be arrested if he sets foot in one of the ICC's more than 120 member states
The International Criminal Court (ICC) has expressed concern over "threats" from Russia following its issuing of a war crimes arrest warrant for President Vladimir Putin.
The ICC's statement of concern on Wednesday came after former Russian President Dmitry Medvedev threatened to hit the war crimes court in The Hague with hypersonic missiles.
It also followed Russia's top investigative body opening a criminal case against ICC Prosecutor Karim Khan as well as the judges who issued the warrant for Putin.
The presidency of the ICC's Assembly of States Parties said it "regrets these attempts to hinder international efforts to ensure accountability for acts that are prohibited under general international law".
The assembly also "reaffirms its unwavering support for the International Criminal Court", the presidency said.
"The International Criminal Court embodies our collective commitment to fight impunity for the gravest international crimes. As an institution of last resort, the Court is complementary to national jurisdictions. We call on all States to respect its judicial and prosecutorial independence," it added.
Medvedev said on Monday: "It's quite possible to imagine a hypersonic missile being fired from the North Sea from a Russian ship at The Hague courthouse."
He added: "Everyone walks under God and rockets… Look carefully to the sky…"
The ICC arrest warrant for Putin, issued on Friday, accuses the Russian leader of unlawfully deporting thousands of Ukrainian children, a war crime.
The legal move will obligate the court's 123 member states to arrest Putin and transfer him to The Hague for trial if he sets foot on their territory.
Neither Russia nor Ukraine is a member of the ICC, although Kyiv has granted the court jurisdiction to prosecute crimes committed on its territory. The tribunal also has no police force of its own and relies on member states to make arrests.
The ICC also issued a warrant against Maria Lvova-Belova, Russia's presidential commissioner for children's rights, on similar charges.
Moscow dismissed the orders as "null and void" and Russia's top Investigative Committee said there were no grounds for criminal liability on Putin's part. It also said that heads of state enjoyed absolute immunity under a 1973 United Nations convention.
The committee said the ICC's prosecutor's actions in issuing the warrants showed signs of being crimes under Russian law, including knowingly accusing an innocent person of a crime.
Ukraine, which says more than 16,000 Ukrainian children have been deported to Russia since the February 24, 2022 invasion, has called the ICC warrant a "historic decision" that will lead to "historic accountability".
Its Western allies, including the United States and the European Union, have also welcomed the court's move.
Although the US is not a party to the ICC, President Joe Biden said on Friday that Putin has clearly committed war crimes, adding that the ICC warrant was justified.
US Secretary of State Antony Blinken has meanwhile urged all members of the ICC to comply with the warrant.
"I think anyone who's a party to the court and has obligations should fulfil their obligations," Blinken said on Wednesday when asked by US Senator Lindsey Graham, at a Senate Appropriations Committee hearing, if he would encourage European allies to "turn over" Putin.
DISCLAIMER: The Views, Comments, Opinions, Contributions and Statements made by Readers and Contributors on this platform do not necessarily represent the views or policies of Homebase Television Ltd.
Visit Our Social Media for More
About Author