Hackney Wick: Collapse of bar floor injures 13
Thirteen people have been injured after a mezzanine floor collapsed at an east London pub.
Emergency services were called to the Two More Years bar in Hackney Wick at about 16:50 GMT.
Firefighters rescued seven people who were trapped after the incident.
Paramedics said three people were seriously hurt and 10 more had minor injuries. Four were taken to hospital and major trauma centres.
Hal, a mental health worker and therapist from Stratford was on the mezzanine floor when it collapsed. He managed to escape the fall with a few scratches.
"It sounded like a rumbling – a bit like an earthquake. You can't be prepared for anything like this," he told the BBC.
He said he was "pretty much in the middle of the upper mezzanine of the bar" after a football friendly between Clapton CFC and Stonewall FC.
"Thankfully I was able to heave myself out," he said.
"We all helped each other out."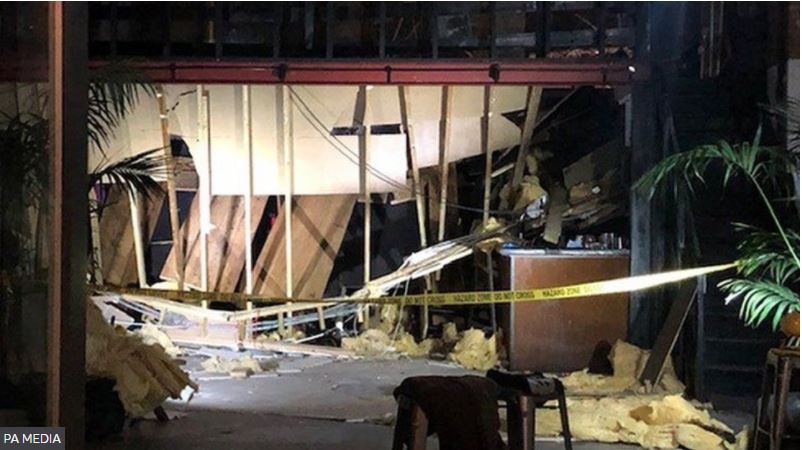 Brian Jordan, strategic commander at London Ambulance Service, said the collapse was treated as a major incident and teams from the air ambulance were sent to the site.
London Fire Brigade station commander Sacha Clement said crews found seven people who were trapped upstairs on the remaining part of the mezzanine floor.
"Crews used a ladder to bridge between the floor and the internal staircase to get them safely out of the building," the station commander said.
LFB said crews from three fire engines from Homerton, Bethnal Green and Leyton fire stations and two rescue units from East Ham and Edmonton stations attended the scene.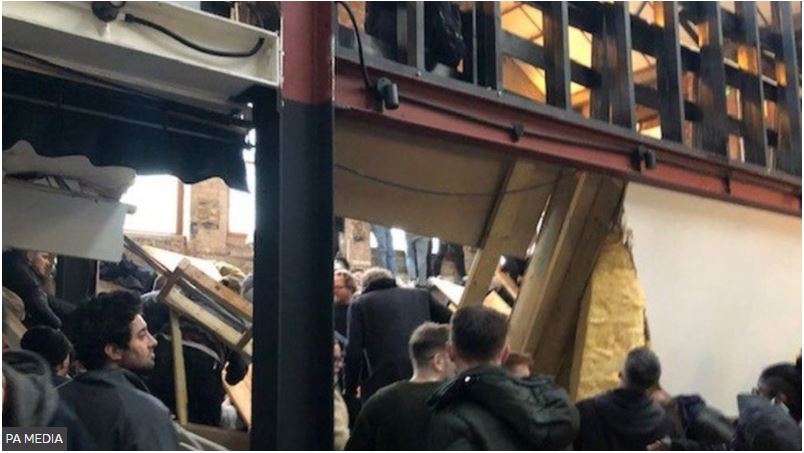 Another man who was in the venue at the time said it was lucky there were not more people sitting directly under the mezzanine floor that came down.
"There was just this sort of cracking sort of noise and dust started coming down," he added.
"Me and my friend just ran to the side and the whole thing just came down in a matter of seconds."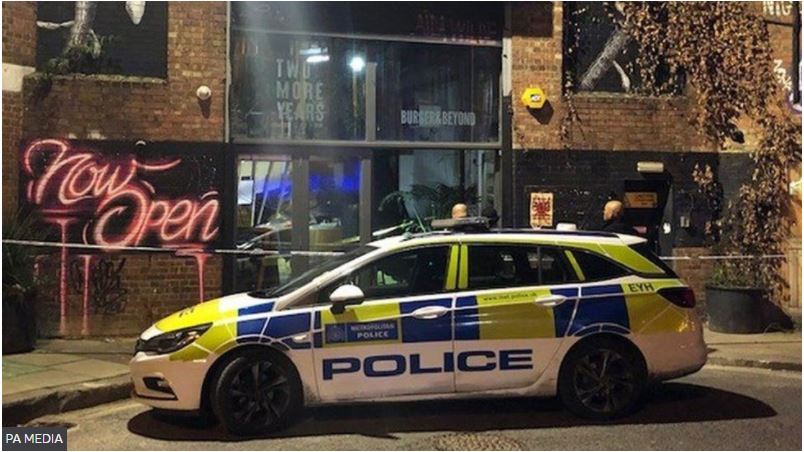 A statement on Two More Years' Instagram account said the venue would remain closed "for now" and added: "Our thoughts are with everyone that has been affected."
"Thankfully" no one had sustained critical injuries, it said.
London Mayor Sadiq Khan thanked the ambulance service, fire brigade and police for their "swift action".
"My thoughts are with those affected by the incident in Hackney Wick this evening," he said. "I wish all those injured a speedy recovery."
Rushanara Ali, Labour MP for Bethnal Green and Bow, tweeted that she was "very concerned about the collapse of part of a building at Roach Road".
A police cordon was set up in the area but has since been lifted.