The atmosphere on social media appeared different today after a viral video of some young men testing cutlass and axe voodoo they went hit the information super highway.
The video, since it was uploaded on social media has been trending, attracting mixed reactions from users. Per the video, it is established that the youths went for powers against the penetration of cutlass in their body. They showed how it works on the live camera and shared the video on social media.
The video had them being hit hard with a sharp axe. Surprisingly, they weren't cut indicating that their juju is active.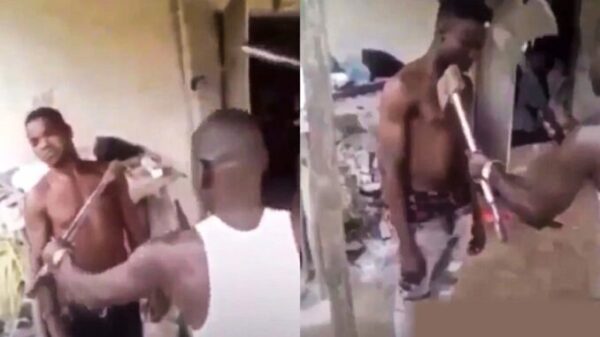 Read also: You Will Not Go Free For Killing An Hard Working MP – Akufo-Addo To MP's Killer
Advertisement. Scroll to continue reading.
They were said to be fortifying themselves against any misfortune during the ongoing #ENDSARS protest.
Some social media users reacted to the video as shared here:
Advertisement. Scroll to continue reading.
They are fortifying themselves ! They are ready? just incase?

E dey pain am ooo buh werey wan Dey disguise ???

E no go enter until dem use pump action give you better close range?

I heard a lady chant blood of Jesus in shrine ???

You can't tell me this ones are actually part of legit Hardworking Nigerians being victimized by police….

Men are greeting ready for the peaceful protest ???????? Incase E turn Bloody ?

Na only for this kind rubbish jazz deyv work. they can never use jazz to promote good thing in this country.

We begin this day in the name of the father and of the son and of the Holy Spirit ??

Omo these ones don sign o, wettin dey really occur for here? ??

I trust ph people, incase u need odeshi for this protest, make u DM me.
Watch video:
https://www.instagram.com/p/CGSHArbJGh2/?utm_source=ig_web_copy_link