Guinea coup: ECOWAS engaged Alpha Condé during constitutional review to no avail – Ayorkor Botchway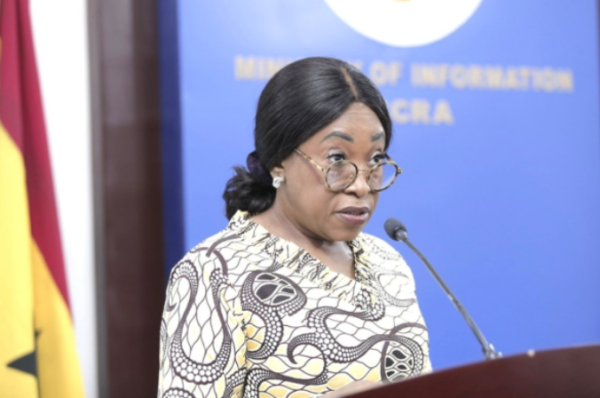 The Foreign Minister has disclosed that intensive engagement happened between the Economic Community of West African States (ECOWAS) and the now-ousted Guinean President, Alpha Conde, before the September 5, coup d'etat.
Shirley Ayorkor Botchway said a delegation from the sub-regional body was in intense deliberation with the Guinean President during the amendment of the Guinean Constitution, which many consider as the basis for the military takeover.
"What you see from the outside is that everybody was relaxed, but that is not the case. There is a lot of engagement that goes on," the Minister said.
The now-ousted President Conde, in October 2020, won a controversial third term, but only after pushing through a new constitution in March 2020, allowing him to sidestep the country's two-term limit.
The 82-year-old's bid for a third term had been condemned by the opposition and described as an abuse of power.
But his inauguration was graced by prominent personalities across the world, including Presidents from the African continent.
Last week, Ranking Member on Parliament's Committee on Foreign Affairs asked leaders across the continent to call out other Presidents who embark on schemes to overstay their tenure.
He joined many across the continent who see it as problematic when regional blocs look on and only move in to mediate when matters escalate.
But addressing the press on Wednesday, Mrs Ayorkor Botway, who doubles as the Chairperson of the ECOWAS Council of Ministers, revealed that the bloc did its best to protect the people's interest during the constitutional referendum and its related process.
Her comments come ahead of an ECOWAS Extraordinary Summit on the Guinea impasse scheduled for Thursday, September 16.
She, however, added that the notion that it sat unconcerned is misleading because "ECOWAS could not have or did not sit aloof and watch this happen."
"We engaged, and I was even part of delegations that went there, sent by heads of state to engage with all stakeholders and to try and stop this… unfortunately, it did not happen," she told journalists at the Information Ministry.
The Chairperson of the ECOWAS Council of Ministers acknowledged the need for a charter to give the sub-regional body more "stringent measures" to ensure that leaders stick to term limits while safeguarding the country's sovereignty.
The Minister also revealed that the deposed Guinean President Alpha Conde is still shocked and coming to terms with the coup that toppled his government.
Guinea and Mali are not among the 13 member-states invited to Thursday's summit.
Source: myjoyonline.com