Green Cooling a viable route towards economic empowerment – Youth advised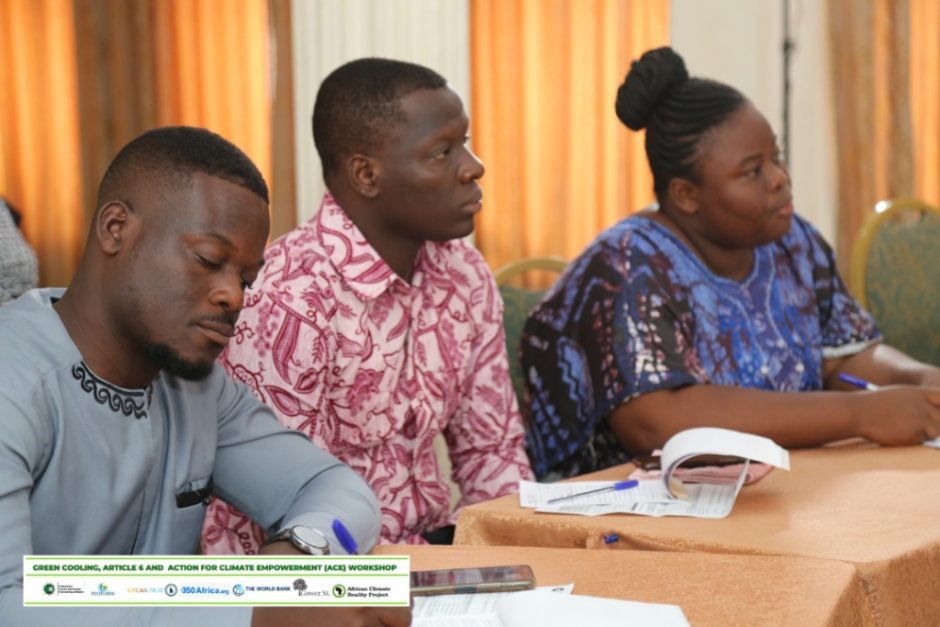 The advantages of reducing global warming go beyond a healthier planet. The ripple effects go down to affect the economic empowerment of a people.
In a country such as Ghana with a worrying unemployment rate among the youth, the Environmental Protection Agency (EPA) sees climate action as a way to go.
As experts predict a warmer earth in the future, there is the need to begin preparing the minds of Ghanaians for a time when refrigerants will become a priority to fend off the heat.
On the back of this, the Environmental Protection Agency has committed to ensuring that only natural refrigerants will be used in the country.
This came up at the Workshop on green cooling, Article 6 and climate empowerment in Accra.
The 2-day workshop organized by the Strategic Youth Network for Development (SYND) saw stakeholders including experts, activists, EPA, government officials and entrepreneurs who shared ideas on the subject matter.
During her presentation, the Programme Assistant for Climate Change and Ozone Unit at the EPA explained that appliances such as energy-efficient air conditioners will help improve ventilation during heating while reducing emissions that contribute to global warming.
According to Paulynn Pappoe, the EPA has proposed these measures as part of its Green Cooling initiative.
Most of the AC's and refrigerants in the country currently are responsible for a huge chunk of the GHG emission as their low-efficiency levels and leakage of high GWP gases that deplete the Ozone layer.
Essentially, the concept recognizes the importance of exchanges between technology suppliers and users in promoting green cooling technologies.
This, Ms Pappoe believes, is the window of opportunity many young minds in the country must explore put some money in their pockets while saving the planet.
"The youth can also involve themselves in this practice which is a promising sector," she said on Wednesday, April 13, 2022.
"Refrigeration and cooling are being used for many things now. Think about it. In the car, in the office, climate change is happening and things might get hotter before other countries will undertake certain activities. So it is something that is going to be with us for a while. So I will encourage everybody here to look at ways to make an impact giving these opportunities."
Ghana has already undergone the first two phases of the Green Cooling initiative.
The first was a region project from 2016 to 2018 comprising partner countries such as Namibia, Kenya and Mauritius.
The second phase, which was global in nature also spanned 2018 to 2021. It included Kenya and Seychelles, Costa Rica and Thailand.
With these moves, Ghana intends to sustain the use of R290 equipment over a longer period as has been committed in its (NDCs) (7o% market shift) to support its emission reduction potentials and support the global community to combat climate change.
Executive Coordinator of SYND, Chibeze Ezekiel found the point about youth empowerment profound.
For him, the stark statistics of the country's unemployed makes it imperative that the youth take advantage of such an initiative.
Mr. Ezekiel explained that it is increasingly becoming obvious that government alone cannot employ all graduates that come out from school.
"If government cannot directly employ them and give them a salary every month, at least they should create that enabling environment, so if someone has a capital the person can go into business and be rest assured," he said.
The environmentalist told myjoyonline.com's Kenneth Awotwe Darko that this creates a ripple effect where these graduates also create jobs for others in the process.
Day 2 of the event saw training from the likes of Dr. Daniel Benefoh, the National Focal point for the United Nations Framework Convention on Climate Change (UNFCCC) who expanded on Article 6 of the Paris Agreement.
The National Focal Point for Action for Climate Empowerment (ACE), Dr. Emmanuel Tachie-Obeng spoke about the need for educational and public awareness programmes, training of scientific, technical and managerial personnel, ensuring access to information, and promoting public participation in addressing climate change and its effects.
The event was also graced by entrepreneurs promoting climate-friendly activities in their craft.
The Member of Parliament for Zebila Constituency, Frank Fuseini Adongo also expressed his elation about the youth's enthusiasm towards finding homegrown solutions to unemployment through climate action.
They include Sesa Plastic Recovery, Standard Israel Consult and Services, Plastics Recycling Agency, Everpure Solutions, among others.
Visit Our Social Media for More