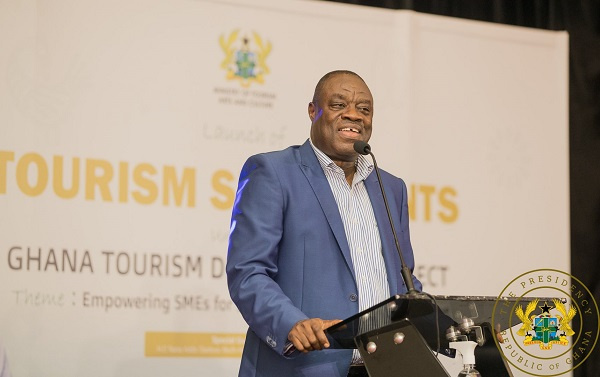 Government has begun the training of some 2,000 hospitality staff in French as part of a comprehensive language training programme to enhance the country's overall tourism experience for international visitors in a bid to solidify Ghana's position as a welcoming destination in the sub-region.
The move, part of government's Ghana Cares Economic Transformation programme, seeks to ensure effective communication and provide exceptional, personalised services to Francophone guests, solidifying Ghana's commitment to fostering an inclusive and culturally sensitive tourism industry.
Addressing journalists in Accra on Sunday, September 24, 2023, Minister for Tourism, Arts and Culture, Dr. Ibrahim Mohammed Awal said the majority of tourists frequenting Ghana's tourist sites originate from French-speaking nations.
Consequently, the language training programme has been strategically designed to empower frontline personnel across the tourism sector with bilingual proficiency to enable them to engage effectively and cater to the specific requirements of visitors, particularly those hailing from French-speaking countries.
"Ghana is surrounded by francophone countries. As you know there are about 8 or 9 francophone countries in West Africa.
"West Africa's GDP is about $880 billion with 448 million people. Ghana cannot achieve its target of international tourism with a corresponding tourism receipt of $3.8 billion this year if we don't expand ourselves to the francophone countries.
"We have Cote d'Ivoire which is among the top 10 visiting countries to Ghana, we have Togo, Burkina Faso, Niger, Benin, etc. who always come to Ghana.
"For us in tourism, the most important thing to us is repeat tourism. If a tourist visits Ghana this year, next year, he will bring his family and friends along and stay longer and spend more money that can support our economy.
"We realised that we could get more tourists if we open ourselves in terms of French language and we are equipping our frontline staff, be it drivers, front desk attendants and tour guards so that once you become bilingual in English and French, we are able to attract tourists," the Minister said.
The training programme he said has been meticulously planned and organized into several phases. In the inaugural phase, which commenced this month and will continue until December 2023, a select group of 100 staff members from upmarket hotels in Accra are participating.
It serves as a pilot programme designed to ensure comprehensive training and assessment before the initiative is expanded on a larger scale.
Dr Awal said government's vision extends beyond this initial phase, stressing that the ultimate objective is to provide training to a total of 2,000 hospitality staff members in line with government's broader objective of making Ghana a more appealing destination for a diverse array of tourists.
He said such investments in skill development are crucial for the long-term growth and success of the tourism sector assuring Ghanaians of government's unwavering dedication to enhancing service quality and improving tourist centres in the country.
DISCLAIMER: The Views, Comments, Opinions, Contributions and Statements made by Readers and Contributors on this platform do not necessarily represent the views or policy of Multimedia Group Limited.
Visit Our Social Media for More
About Author