Ghana's 65th Independence anniversary – The journey so far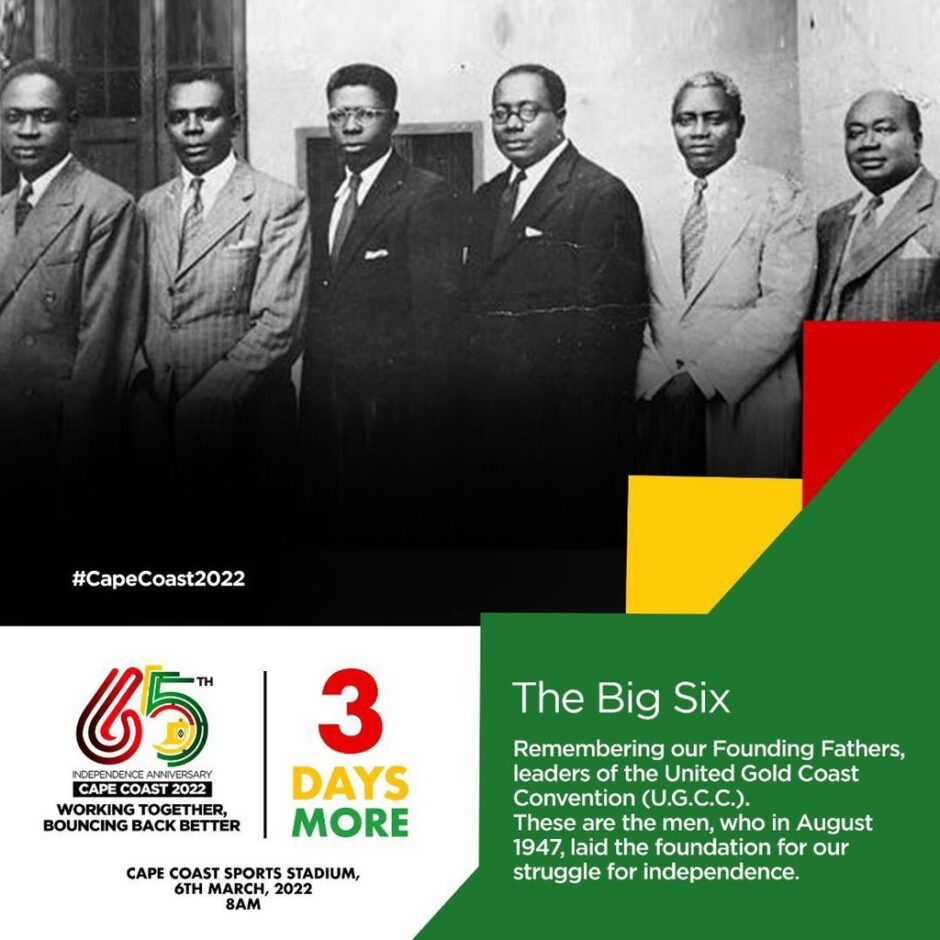 Former Gold Coast, now Ghana is today, March 6, celebrating its 65th anniversary after attaining independence in 1957 from the British.
The achievements chalked so far by the country would not have been possible if not for the efforts of the founding fathers of the United Gold Coast Convention (UGCC), popularly known as the "Big Six."
They are; Kwame Nkrumah, Ebenezer Ako-Adjei, Edward Akufo-Addo, Joseph Boakye Danquah, Emmanuel Obetsebi-Lamptey and William Ofori-Atta.
In August 1947, they laid the foundation for the Gold Coast's struggle for Independence.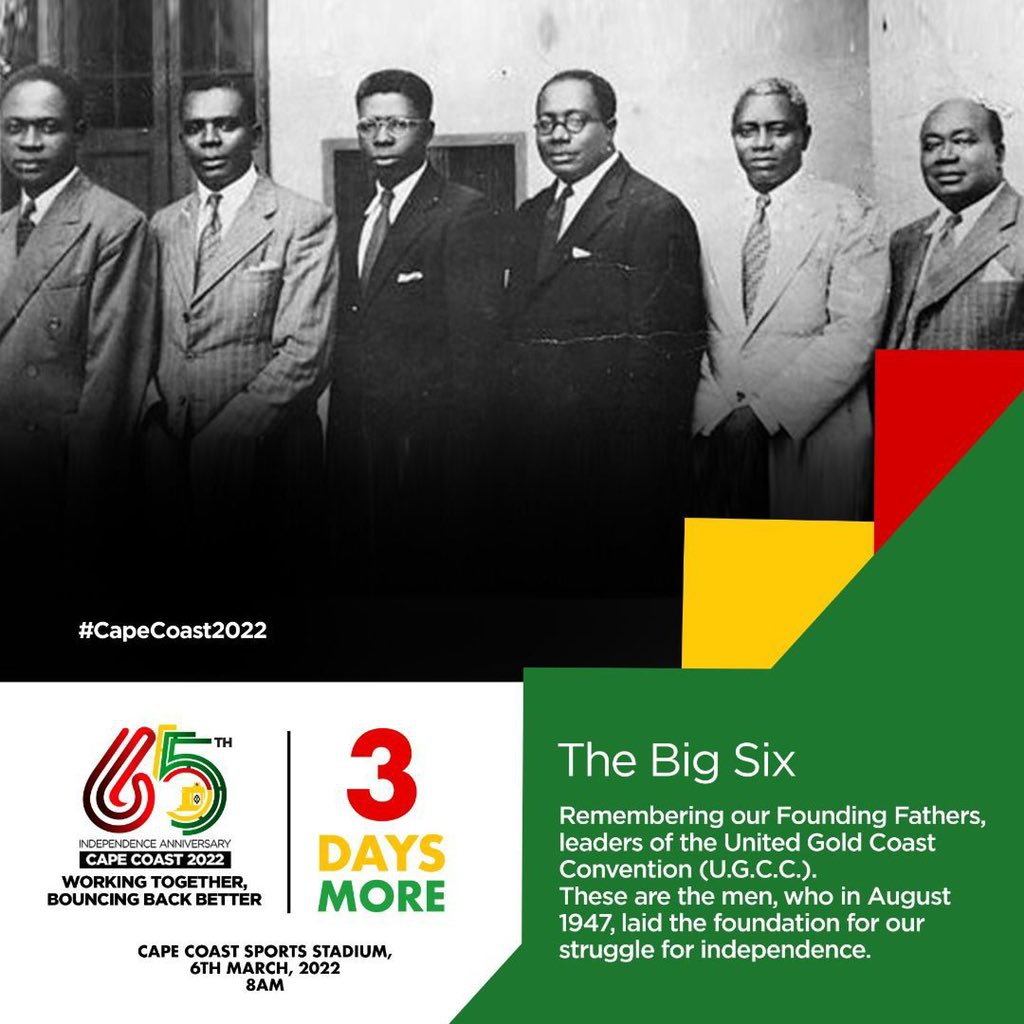 The Past – Ghana's freedom
Osagyefo Dr Kwame Nkrumah was the first Prime Minister of Ghana. In his speech to Ghanaians on Independence Day, he said: "At long last, the battle has ended! And thus, Ghana, your beloved country is free forever!"
He did not end there but further noted that "Our independence is meaningless unless it is linked up with the total liberation of Africa."
Ghana is represented globally by its Red, Gold, Green and Black Star flag. It was designed by the late Theodosia Salome Okoh. The Red – symbolises the blood of the forefathers who led the fight into independence. Gold stands for the country's minerals while the colour Green signifies Ghana's natural wealth in terms of vegetation cover.
The five-pointed black star at the centre shows the Hope for Africa to attain liberation. Previously, Gold Coast had been using the blue ensign of the British colony as its flag.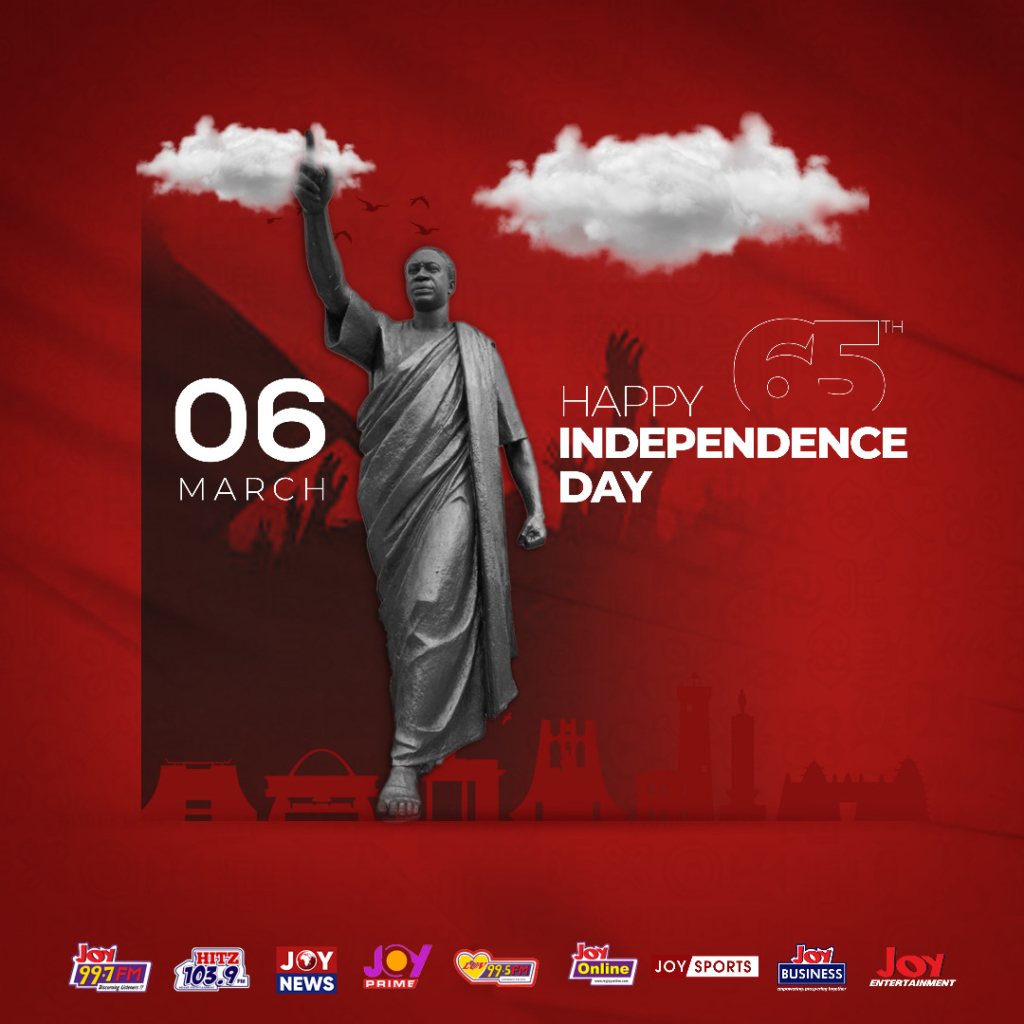 Ghana meets a new dispensation
On July 1, 1960, a new constitution was adopted, changing Ghana from a Parliamentary system with a Prime Minister to a republican form of government headed by a President. Dr Kwame Nkrumah became the country's first elected President. He run on the ticket of the Convention People's Party (CPP).
He was the first African head of state to promote the concept of Pan-Africanism (the idea that people of African descent have common interests and should be unified.)
Birth of coup
Nkrumah's tenure as President was short-lived. He was overthrown by a coup led by Col. Emmanuel Kwasi Kotoka on February 24, 1966. Nkrumah was out of the country when his administration was sent to oblivion.
Subsequently, the National Liberation Council (NLC) was formed, chaired by Lt. General Joseph A. Ankrah. Another constitution was drafted for the Second Republic of Ghana.
Ghana's government returned to civilian authority under the Second Republic in October 1969. The country was at this time led by Progress Party's Kofi A. Busia.
Later, in a special election on August 31, 1970, former Chief Justice Edward Akufo-Addo was chosen as President, and Dr Busia became Prime Minister.
Another military takeover was orchestrated on January 13, 1972, bringing an end to the 2nd Republic. Col. I. K. Acheampong led the coup.
On July 5, 1978, Lt. Gen. Frederick Akuffo led a palace coup to overthrow General Acheampong. Not long after, he was removed from office in 1979 by Flight Lieutenant Jerry John Rawlings and the Armed Forces Revolutionary Council.
Ghana returned to a democratic state under Dr Hilla Limann of the People's National Party (PNP). This was the 3rd Republic.
Dr Limann assumed office as President on 24 September 1979. The state returned to military rule under the leadership of Rawlings on 31 December 1981. This was his second coup.
He led the military junta until 1992. Rawlings established the Provisional National Defence Council (PNDC).
Ghana's 4th Republic
In 1992, Ghana entered its 4th Republic as J.J. Rawlings was elected as President. He run on the ticket of the National Democratic Congress (NDC). The 1992 Constitution was drafted during his time as President.
Since then, citizens have lived under democratic rule. After Rawlings was John Agyekum Kufuor of the New Patriotic Party (NPP) who governed from 2001 to January 6, 2009.
The NDC government assumed power under the leadership of John Evans Fiifi Atta-Mills. He governed from 2009 until his demise on July 24, 2012, at the 37 Military Hospital in Accra. Then-Vice President, John Dramani Mahama assumed the role of President.
In 2013, he assisted the NDC to retain power against NPP's contender Nana Akufo-Addo.
He served until January 6, 2017. Nana Akufo-Addo was elected as President and in December, 2016, began leadership from January 7, 2017.
Currently, the NPP continues to govern as citizens re-elected Akufo-Addo as President during the 2020 elections.
Present Day Ghana
Today, Sunday, March 6, Ghana celebrates its 65th independence anniversary under President Akufo-Addo's tenure. This year's celebration is under the theme "Working together, bouncing back together." The celebration is being held at Cape Coast in the Central Region.
President Akufo-Addo has admitted that Ghana is a work-in-progress, noting that there is so much more to do to ensure the country is truly dependent and reliant..
For him, Ghana's story of 65 years of independence is one that speaks about hope for a prosperous future. He has, therefore, urged citizens to work together as a team with a common purpose for the development of the country.
The day will be incomplete without the Ghana National anthem composed by Philip Gbeho.
"God bless our homeland Ghana,
And make our nation great and strong,
Bold to defend forever
The cause of freedom and of right.
Fill our hearts with true humility
Make us cherish fearless honesty,
And help us to resist oppressor's rule
With all our will and might for evermore," it says.
Visit Our Social Media for More