Majority Leader's efforts to blackmail Speaker 'most pathetic' – Okudzeto Ablakwa
Views: 57
Read Time:
2 Minute, 34 Second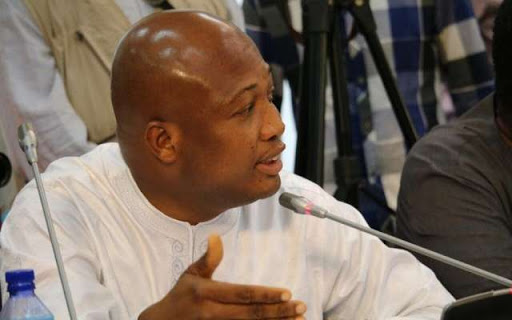 The Member of Parliament for North Tongu, Samuel Okudzeto Ablakwa has criticised the Majority Leader over his claims that the Speaker of Parliament made a financial request on behalf of Parliament, as a precondition for approving the 2020 budget.
In a Facebook post on Thursday, Mr. Ablakwa indicated that the allegations by the Majority Leader should be condemned by all.
"Majority Group Leader, Osei Kyei-Mensah-Bonsu's desperate efforts to blackmail and throw mud at Speaker Bagbin is most pathetic and must be roundly condemned".
It would be recalled that while addressing the press on Thursday, the Majority Leader, Osei Kyei-Mensah-Bonsu revealed that prior to the presentation of the 2022 Budget, Alban Bagbin requested that an amount of GH₵1.72 billion be allocated to Parliament by the Finance Minister or have the Budget thrown out.
The Majority Leader therefore accused the Speaker of being responsible for all the recent controversies and squabbles that have characterized parliamentary business. Osei Kyei-Mensah-Bonsu also blamed the Speaker for the inability of Parliament to promulgate the e-levy Bill into law.
But reacting to the claims by the Majority Leader, Mr. Okudzeto Ablakwa said the allegations are not founded in truth.
In his view, there's nothing wrong with the Speaker's request for an increase in the budgetary allocation for Parliament.
Mr. Okudzeto Ablakwa questioned, "If President Akufo-Addo could increase his allocation to the Office of Government Machinery from GH₵2.5 billion to GH₵3.1 billion and at the same time raise his Contingency Vote from GH₵186.8 million to GH₵933 million (a staggering 431.5% increase); what is wrong if the head of the Legislature demands that the organ he leads be accorded its fair share?'"
The MP also added that Mr. Bagbin has been a consistent advocate for equity in the distribution of state resources, and therefore the Speaker's request is only a reflection of his longstanding convictions.
"Rt. Hon. Speaker Bagbin has long advocated publicly for equitable resources to strengthen the legislature and judiciary — he's consistently argued that allocating at least 2% of GDP for the other two arms of government will make our democracy healthier as there can be real checks and balances to deliver on the legitimate expectations of the Ghanaian people"
Mr. Ablakwa therefore called on government to abandon the 1.75% e-levy, instead of casting blames on others for its inability to mobilise support for the levy.
"Government should stop these spurious attempts at looking for scapegoats to blame for its well-deserved disastrous inability to railroad obnoxious policies such as the e-levy, and rather pull the brakes by listening to the overwhelming majority of Ghanaians — for the voice of the people is certainly the voice of God (Vox Populi, Vox Dei)", Mr. Okudzeto Ablakwa concluded.