Joseph Opoku Gakpo: The Elvis Kwashie I experienced
Views: 17
Read Time:
9 Minute, 45 Second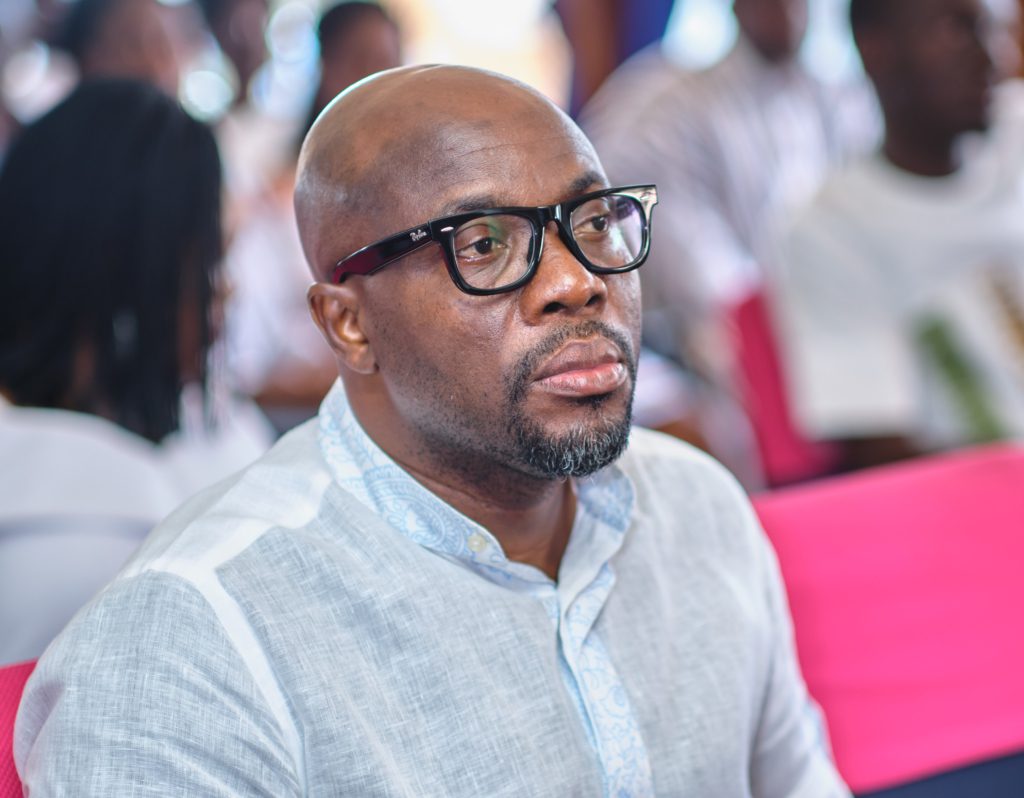 Exactly a week ago today, news broke that our boss, our mentor, our friend, our brother, and our father Elvis Koku Kwashie who was General Manager for Joy brands at the Multimedia Group Limited, gave up the ghost the night before after a short illness.
I remember that Wednesday morning like it was yesterday. I was on a phone conversation with my colleague Seth Kwame Boateng discussing a range of issues including the need to keep praying for Elvis' speedy recovery. 30 minutes or so into the conversation, Seth said he just got an update via text that the worse had happened and that the boss had passed on, and so he would have to call me back. It was like a sword had been pierced through my heart. It felt like a knife had been stabbed through my hand. It felt like my skull had been crushed with a block.
I didn't want to believe it and so I texted Seth some minutes after he hanged up and said, "kindly keep me updated if you confirm." He texted back immediately and said, "it is true. He is gone bro."
I froze. My body, mind, virtually all my senses just froze at the same time. I just got up from my computer, went to lay in bed shivering in the midst of warmth, re-read messages we had exchanged in the past, and just tried to sleep off without success.
Our last conversation was on the 1st of December 2021, 7:09 am GMT.
Elvis wrote: "Prof. Gakpo. How are you? Out of sight, out of mind."
I replied: "Mr. Kwashie. Good morning sir. The way me and you are, you can never be out of mind when you are out of sight."
Elvis wrote: "Tweaaaa. Raps."
I wrote: "I usually don't want to be interrupting your very, very busy schedule. Which is why you don't hear from me most often."
Elvis replied: "You are my brother. Don't do that. Always available."
I've been on leave from work for some months now. I left the country along the line and got back quietly a few days before that text from Elvis came through.
So, I wrote: "I came to town over the weekend ooo Mr. Kwashie."
Elvis wrote: "Eiiii. I never knew you came to town… As a father, you can feel it when your son is close."
Before I could type anything else, he called. He said he was even wondering why he texted me because, in his mind's eye, I was in the US. And it was like 2 am in the US. But he just felt I was close. I asked how things were in the office and he said he hadn't been well and so had been home recovering. I told him I will be attending an event at the University of Ghana to mark Farmers' Day the following day and would pass by the house and say hello to him once that is done. He said I should call him when I'm coming. I called the following day, and his line was off. The rest of the story, as they always say is, history. I never imagined that was the last time we would ever engage on earth.
It was one of those moments of care, love, and affection as he has always shown me. Including during our very first encounter. It was sometime in March or April 2011, I don't quiet remember. I walked to the front desk of Joy FM and said I was there to see Elvis Kwashie. I didn't know him from anywhere and had never spoken to him.
The year before in 2010, I posted an internship application letter to Joy FM, and followed up with phone calls from my base in Kumasi. That internship opportunity never worked out. So, in 2011, I said I will implement a different strategy. I will take the letter there myself and speak to whoever is in charge.
Days before that, I was listening to the Super Morning Show on Joy FM via Luv FM. Then I heard the host then, Kojo Oppong Nkrumah give a shout out to his managing editor Elvis Kwashie. So, I wrote down the name and said to myself, this is definitely the guy to make a mark on.
Days later, I traveled to the Western Region with my colleague then Audrey Kareen Gambrah on a volunteering programme, and when we were returning to campus in Kumasi, I decided to do a stopover at Joy FM in Accra.
When I got to the reception and asked of Elvis Kwashie, the receptionist had a lot of questions for me too. She asked if I had called him. I said no. She asked if I had an appointment, I said no. She asked if the purpose was official or personal? I told her it's semi-official. So, she asked me to sit down.
After about 45 minutes later, Elvis emerged at the front desk, introduced himself and asked to what he owed this visit. I told him I'm a young journalist who has had some radio experience, including at Kapital radio, and was pursuing a Bsc in Agricultural Biotechnology at KNUST. I told him I want to do an internship at Joy FM to learn more, and I heard on the radio that he is the managing editor. So, I came with my application for an internship.
After series of questions and answers, Elvis told me his newsroom was full. But because of the confidence I displayed by showing up to come speak to him when I didn't know him from anywhere, he would give me the opportunity. He said I can go back to school and return when vacation begins for pre-internship assessment. I went back 2 months later to the Joy FM front desk, during which I met my good friend Sandra Armaquaye who was also there from KNUST looking for internship, and we both went through the assessment.
I got the opportunity days later, and that was how I got my first three-month stint in the Joy FM newsroom. Over that internship period, Elvis was very supportive. Getting to the end of the internship, the human resource manager then, Tina, called me up to her office upstairs and handed me an envelope that contained money. She said they don't pay interns, but Elvis has recommended me as hard-working, which is why they were giving me that token of appreciation.
For the two years I was back in school, Elvis and I stayed in touch. And I resumed my internship there in June 2013, soon after I finished school. He documented me in the system as Ashaiman Correspondent, so I could get paid for stories I filed, although I was an intern.
In August 2013, Elvis made sure my national service posting to the Ejura – Sekyeredumase District Assembly was changed to Joy FM. I got my employment letter immediately after my one-year national service period ended. Elvis made it happen because he had promised he will make it happen months before.
Elvis was a generous guy. Sometime in 2013, he asked me to escort him somewhere. I followed without asking questions. We walked to a shoe shop at the Sadisco traffic light near Joy FM, and he asked the attendant to give me a shoe of my size which he paid for. There were days when you will go say goodbye to him at his desk at the end of the day, and he will dip his hand in his pocket and dash you money.
At the end of 2013, he organised an end-of-year ceremony in the newsroom and awarded cash prizes. He said I was his best recruit for the period he has been in charge and for me, that felt very inspiring.
Sometime in late 2015, I tendered in my resignation at Joy FM because I had a different offer. I turned off my phone after tendering in the resignation at the Human Resource department on Elvis' blindside, called in sick, and went to sleep at home waiting to start my new job.
One of those days when I turned the phone on temporarily, his call came through. We had a long conversation about why I did not have to leave. I went to see him in the office the following day. He said I should go and tell the HR Unit that I am withdrawing the resignation letter. When I went to the Unit, they told me the letter had already been withdrawn on my behalf and so I can go back to work.
Sometime in 2016, when I spent 4 months at Cornell University in USA as a Global Leadership Fellow, he came visiting. I participated in a panel discussion on agriculture and Elvis was in the audience. Everyone commended the panel members for a good conversation. Elvis did too, but he looked beyond the ordinary. When we stepped out of the venue, he commended me for a great show. "But you talk too much, Gakpo," Elvis added.
He said I can't sit on a panel with others and be talking plenty like that because I think I am a journalist. Elvis was always very critical because he tried to bring the best out of his staff. He additionally took interest in his workers' personal development beyond the professional work. He used to quiz me about whether I went to church the Sunday before and whether I paid my tithe. He would always ask, "so the 'chick' you take come my house, when you go marry am?"
I wrote these words about him in 2013 when I published an article thanking my top 11 supporters that year. He was number 2, and team Joy FM was number 1.
"Joy FM's Managing News Editor, Elvis Kwashie has been more than just a boss and a friend, but also a teacher and a father. With his love, care, advice, teaching, and generosity, Elvis has been the most utilised person God has used in blessing me in the year 2013. He not only handed me the greatest opportunity that has come my way over the last 23 years of my life, but he has made conscious efforts to ensure that I succeed. He not only does news stuff coaching, but he goes out of his way to provide the material needs that keeps body and soul together." 8 years on, I could find no better string of words to describe what you mean to me because "words fail me".
Today, those calls of yours that always send shivers down one's spine will not come through anymore. Those end-of-year visits to your house will not be the same anymore. And the way you will hit our backs or tickle us when you walked through the office, we will experience no more. You called us "hard guys". You said we are "smart". You used to say you lead the "best news team".
Thanks very much for a good career. Thanks very much for all the love. Thanks very much for everything. Rest well. No more denying that your life has come to an end, Elvis. But your legacies and the greatness you inspired in people across this land, will forever remain.
R. I. P. #TheRealBoss