Catholic Church launches fundraising in support of COVID-19 fight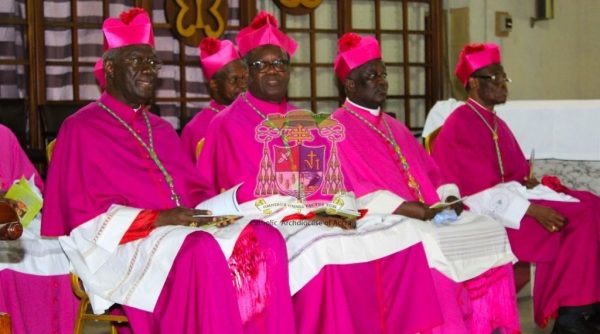 Views: 332
Read Time:
1 Minute, 50 Second
The Catholic Church in Ghana has launched a fundraising appeal to make provisions for the less privileged in society amidst Coronavirus.
The project, which is under the auspices of the National Catholic Secretariat is among other things aimed at complementing government efforts in proving the needs of the poor as well as providing personal protective equipment for frontline workers.
The National Catholic Secretariat in a statement in possession of ABC News calls on Catholics and the general public to support the project dubbed "the Catholic Response."
"The National Catholic Secretariat has the blessing of the Ghana Catholic Bishops' Conference to make this special appeal to all Catholic organisations, businesses, the faithful and any person who stands in a position to assist one way or the other by donating any of the PPEs listed below to the 46 Hospitals and 83 clinics of the National Catholic Health Service", the statement said.
"In these times of COVID-19 pandemic, there is the need for people all over the world and Ghana in particular, to live exemplary Christ-like lives by extending love, kindness, and care to those are most affected or in the line of high risk to the deadly COVID-19," the statement added.
Read Also: Fire Service advises public after Kintampo accident
The Catholic Church by this move joins the Church of Pentecost among other religious groups by way of donations in support of the fight against the pandemic. An act many have described as a Christian duty and commendable.
The gesture is expedient as the world continues to call for the provision of personal protective equipment among others for frontline workers.
Meanwhile, the World Health Organization has warned that severe and mounting disruption to the global supply of personal protective equipment (PPE) – caused by rising demand, panic buying, hoarding, and misuse – is putting lives of particularly frontline workers at risk.
"Without secure supply chains, the risk to healthcare workers around the world is real. Industry and governments must act quickly to boost supply, ease export restrictions and put measures in place to stop speculation and hoarding. We can't stop COVID-19 without protecting health workers first," said WHO Director-General Dr. Tedros Adhanom Ghebreyesus.