Akufo-Addo appoints Kofi Ofosu Nkansah as CEO of NEIP
Views: 18
Read Time:
1 Minute, 52 Second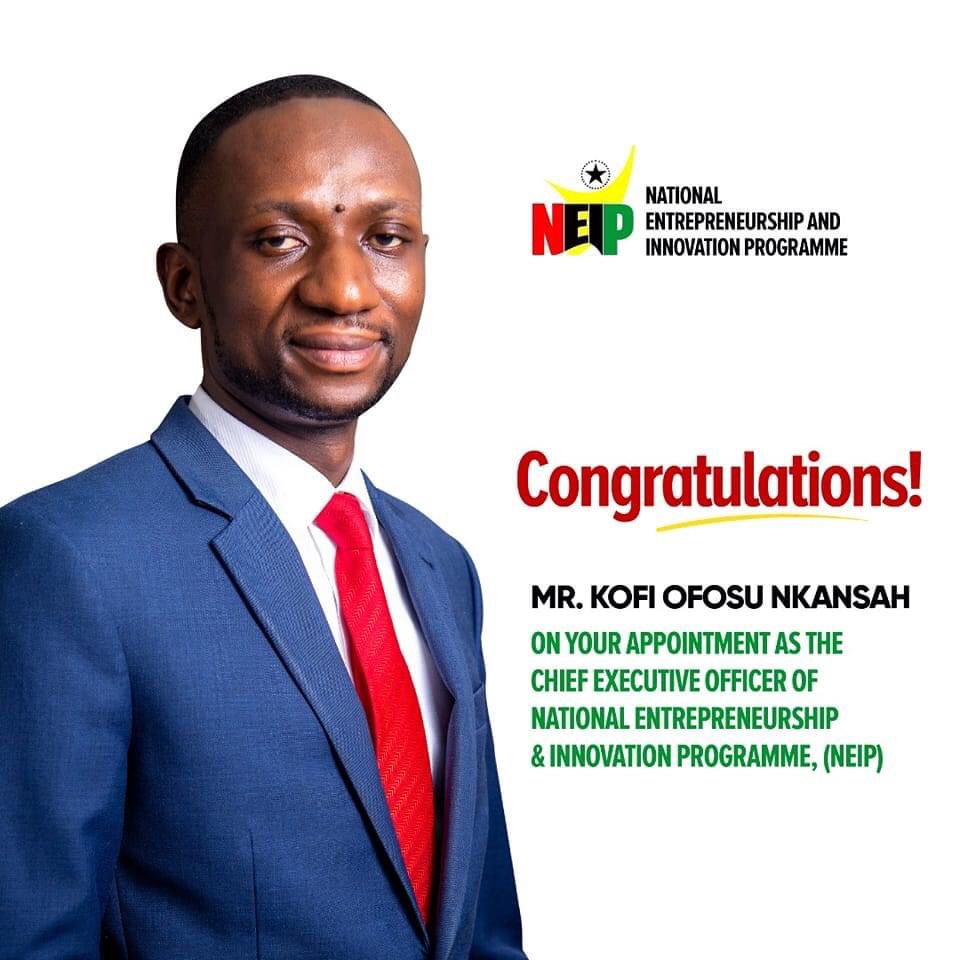 President Akufo-Addo has appointed Mr. Kofi Ofosu Nkansah as the Chief Executive Officer of the National Entrepreneurship and Innovation Programme (NEIP).
He takes over from Deputy Finance Minister, John Kumah. Prior to his appointment, Mr. Ofosu Nkansah worked at the Accra Digital Centre, serving as the Managing Director.
Mr. Nkansah is expected to accept the appointment in writing within 14 days of receipt of his appointment letter.
As part of his responsibilities, Mr Kofi Ofosu Nkansah, will introduce new modules which will help reduce Youth unemployment, including leading the implementation of the 'YouStart' Programme with the Ghana Enterprises Agency (GEA) and partner financial institutions.
The 'YouStart' initiative forms part of the "Obaatanpa" programme launched in November, 2020 by government to spearhead the revitalisation and recovery from the Covid-19 pandemic.
He will see to the completion of projects started by his predecessor.
The National Entrepreneurship and Innovation Programme, previously known as the Youth Enterprise Support (YES), launched under the previous (NDC) administration in August, 2014 is to provide support to the youth who are in business.
Profile of Ofosu Nkansah
From February, 2017 until now, Mr. Kofi Ofosu Nkansah led and drove innovation and entrepreneurship in the Tech Ecosystem at the Accra Digital Centre (Ghana Digital Centres Ltd.) to help harness the digital innovation potential of Ghana.
He operationalized the Digital Centre and achieved 100% occupancy in two years under the Leadership of the Minister for Communications and Digitalization,
The newly appointed CEO won the Africa Public Sector Conference's Young Public Sector CEO of the Year award, the International Telecommunications Union (ITU) Global Ecosystem Best Practice Award and was listed among the 30 Most Eminent STEM CEOs in Ghana in 2020.
He is a Co-founder and Coordinator of the 2020 and 2016 Volunteer groups of; Professionals for change (Now P4C), Loyal Ladies, Alpha Patriots and Zongo Ladies for Nana.
Mr. Nkansah is a member of the NPP National Communications Committee and was part of 2016 and 2020 National Campaign teams (Social media).