Forty-nine (49) persons sent home from isolation centers to complete treatment – Oppong Nkrumah clarifies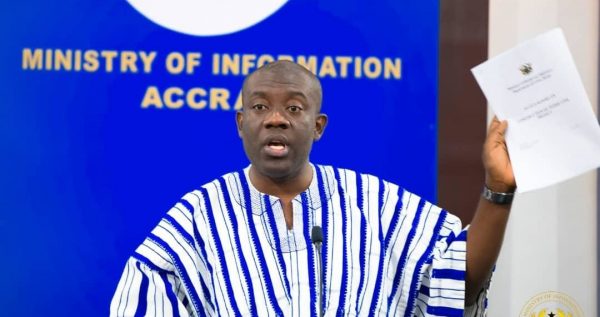 Views: 172
Read Time:
2 Minute, 32 Second
Minister for Information, Kojo Oppong Nkrumah has explained that the reason for discharging forty-nine (49) persons from the isolation centers to finish the last stage of their treatment at home is to make sure they do not re-contract the virus.
The Minister, during a press briefing on Ghana's status as regards the COVID-19 pandemic on Wednesday, disclosed that out of the country's 195 confirmed cases, 49 have been discharged to their various homes to await their last treatment and testing until they are declared totally recovered.
138 persons are, however, still in various facilities 'responding well to treatment' while 3 persons have totally recovered.
Explaining why the 49 persons have been discharged though not fully recovered, the Ofoase-Ayirebi Member of Parliament stated that for people whose risk profiles indicate they can be treated at home, it is best to do so to avoid them picking up the infection again.
"In Italy, people are sleeping on hospital corridors and so if you check the preventive part of the Ghana response and you deal with the case management, one of the first things we are saying is that we want to treat as many people at home as is possible so if you have somebody who has tested positive, who is asymptomatic, whose risk profile can be treated in the confines of their homes, we don't need to rush that person to the hospital
"Invariably what it means is that if you have somebody who has improved so significantly and can be treated at home, you don't have to keep that person in the hospital because the data also shows that there are some people who pick up the infection and get reinfected when they are at these facilities," he indicated.
In addition, the Minister explained that it is important to free up the health centres and other facilities that are serving as isolation and treatment centres for infected persons in order not to have an overrun of the country's health infrastructure.
"What we've learnt about this virus in other countries is that when this virus was still novel, was people were just rushing to the hospitals, at a time when globally PPEs were in short supply. When you have people rushing to the hospitals as their first point of call, we're going to have them infecting a lot of doctors and nurses and health care workers and one of the lessons is that in Italy and other jurisdictions we've had huge numbers of health care providers who have been infected, secondly, the health care infrastructure gets overrun very quickly because this is a sweeping wave of flu of some kind, it affects a huge percentage of the population and if everybody is rushing to the hospital out of fear, panic, out of genuine concern, very soon no matter the kind of health infrastructure you have it will overrun," he added.