Dakoa Newman picks NPP Okaikwei South NPP parliamentary ticket.
The female candidate in the Okaikwei South constituency parliamentary primary of the New Patriotic Party (NPP), Ms Dakoa Newman, has picked the ticket to lead the party into the 2020 election.
ElectionBillboard – NPP Primaries Election 20/6/20 – She beat off competition from the incumbent Member of Parliament (MP), Mr Ahmed Arthur and the Chairman of the National Theatre Board, Nana Fredua-Agyeman Ofori-Atta, after polling 440 votes.
NPP Primaries: Suhum Constituency – Kwadwo Asante defeats Opare Ansah
The incumbent MP fell behind her with 327 votes while Nana Fredua-Agyeman managed 21 votes.
Charged atmosphere
The Okaikwei South contest which was identified as one of the hotspots in the Greater Accra Region was characterised by allegations of impersonation and vote buying, but at the end of the day, the delegates spoke in favour of the polling station women's organiser.
Even before the officials of the Electoral Commission (EC) declared the certified results, the supporters of Ms Newman had put the figures together and were jubilating.
And when the District Electoral Officer for Okaikwei South, Mr David Chinery Cleland, announced her as the elected candidate, the Prince of Peace School premises which served as the collation centre went agog as the supporters sang and danced.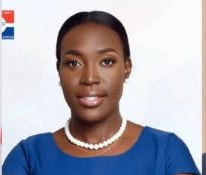 Victory speech
Filled with joy, Ms Newman who wore a jeans trousers and a white shirt gave thanks to God for the victory.
"It has been God; not me, so I give thanks to him. I am humbled by this honour done me and will remain grateful to the delegates," she said.
She also lauded her contenders for conducting a clean campaign and giving her a good contest.
"Now the primaries are over. It is the NPP that has won so we must all rejoice and unite for victory in the general election," she added.
The other two contenders were not immediately available to speak to Graphic Online after the declaration of the results.
However, before the declaration, Nana Fredua-Agyeman had expressed optimism of clinching victory.