Caution: Never Endorse Any Candidates!!
---
The New Patriotic Party has cautioned its executives never to endorse any aspirant for a presidential or parliamentary race in the upcoming election. In a press release issued by Homebase TV, the party issued this warning after chancing on a video of the Ashanti regional chairman, Mr. Bernard Antwi Bosiako, openly endorsing one aspiring presidential candidate.
Mr. Stephen Ntim, the newly elected chairman, invited Mr. Antwi Bosiako and had a talk with him about the need for party officers at all ranks and positions to devoid themselves of issues of such nature. He later emphasized the code of conduct issued by the National Council of the party on the 27th of July 2021 in respect to presidential and parliamentary primaries.
Section 1(f) of the code of conduct indicates that "members, supporters, and sympathizers of the party at all levels shall desist from using their public office or portfolio within or outside the party to promote the interest of any prospective presidential or parliamentary candidate in order to gain an unfair political advantage."
Advertisement. Scroll to continue reading.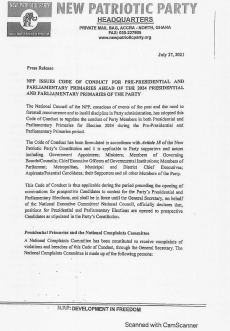 Mr. Ntim insisted that all national and regional executives should strictly adhere to this code of conduct and stop endorsing or campaigning for any candidates
Advertisement. Scroll to continue reading.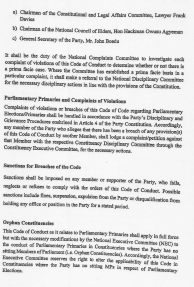 openly. He reaffirmed that until the party opens nominations for presidential and parliamentary primaries, all aspiring candidates should not involve themselves in all kinds of campaign, which includes billboard mounting and meetings among party executives, for that would be a breach of the code of conduct.
Read Also:
Source: Rose Twum Marfo|| Beauty Amaga ||hbtvghana