Boy pictured cooking in desert gets donations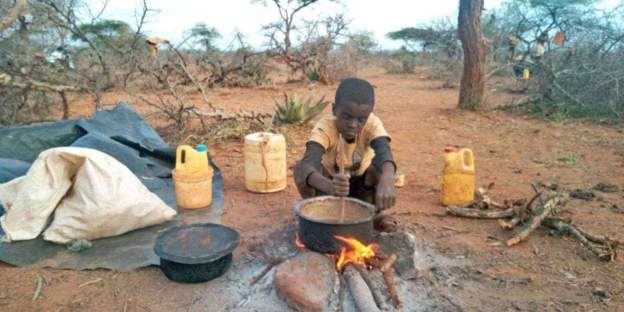 The Ethiopian journalist who took the viral photo of a boy cooking in the desert alone has told the BBC the story behind the powerful image.
Boru Konso's photo has elicited a lot of reactions online and gotten well-wishers to donate money and items to the boy.
The journalist was riding his motorcycle in the rural district of Mio where he had gone to cover a story when he saw the boy late in the evening.
"The little boy probably under 10, had lit a fire and was cooking a meal. I was shocked when I saw this little boy cooking in a desert while he was alone. You can't find a home in that area for around a 10km radius. I parked my motorbike and pictured him," Boru says.
The boy told the journalist that his family lives in a different district and he was moving around with their animals in search of water and pasture.
Ethiopia is currently experiencing a drought forcing pastoralists to move around.
Boru shared the photo of the boy on social media and people started reaching out to offer help.
Among those who have visited the boy is businesswoman Muna Bakare who donated food and other items to the boy, his family and neighbours.
"I saw the picture of this little boy on social media and it touched my heart. No sleep came to my eyes. I felt as if he was my son. So, I started searching for him," Muna said.
Muna has promised to pay for the boy's school until he finishes college.