The Suspended NPP Chairman for the Assin South Constituency Mr. Theophilus Kojo Taylor has urged Assin South electorates to vote massively for Mr. Joseph Kofi Damtse who was disqualified by the Assin South Npp during their parliamentary primaries as their independent Member of Parliament coming the 7th December Election to drive Assin South District from bad to good in terms of development and good policies.
The Suspended Chairman revealed that the Assin South NPP is ungrateful and won't appreciate the electorates when they vote for the party in the upcoming December election because of how he has suffered for the NPP party in Assin South in which he has been paid back with evil.
Speaking to Homebase News rep Henry Donkor, he also alleged that, he spent over billions of cedis on Hon. Rev John Ntim Fordjour before he got the Assin South Parliamentary seat with his own pocket money but has been paid back with evil hence urging the Constituents to abandon NPP and vote massively for the Independent Candidate, Mr. Joseph Kofi Damtse to grab the seat from the NPP Party because if they vote for NPP they won't appreciate it since they are ungrateful.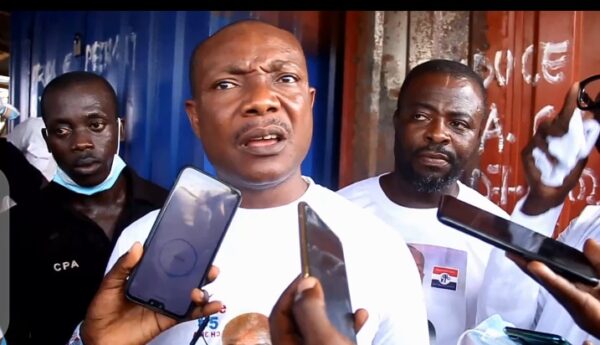 "Upon all my hustles for the party, the Central Regional Chairman of NPP, Mr. Robert Kutin Junior told me straight that he will disqualify me when l was contesting for the Chairmanship position in the Constituency, so they would not appreciate it if you vote for NPP party in Assin South since the Party has done nothing for the people of Assin South since the party was voted into power", he lamented.
The Suspended Chairman revealed this when the Independent Candidate was launching his Manifesto and his campaign at Assin Nyankumasi in the Assin South District of the Central Region.
Read also:  Goldstar Air, E-Station Donates PPE's To Agidor Events Beauty Pageant
The Independent Candidate Mr. Joseph Kofi Damtse urged the Constituents to vote for him to bring development to their doorstep.
He hinted that he will provide potable water for all the Constituents, will organize Assin South Champions League for the youths, good road network, provide job opportunities for the youths amongst others.
"Vote me out the next time l contest if l fail to fulfill all my promises" he pledged.
Story by: HENRY DONKOR