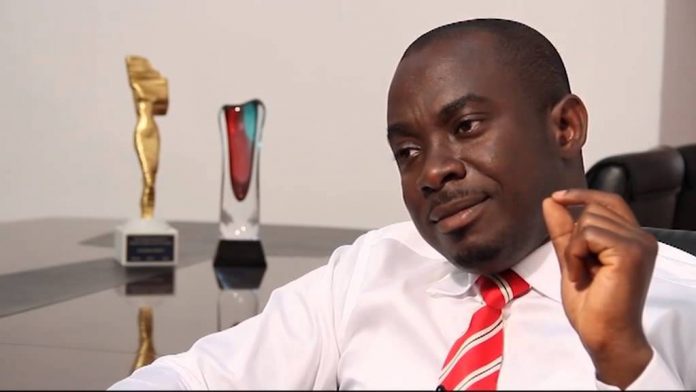 The High Court hearing the criminal case against former CEO and owner of Beige Bank, Mike Nyinaku, has been told by the First Prosecution Witness that Mike Nyinaku supervised the issuance of misleading investment certificates to unsuspecting customers who believed they were investing with the Bank.
Unknown to the customers, Mike Nyinaku instructed monies the customers had placed with Beige Bank to be siphoned out to a sister company, Beige Capital Asset Management, which is also owned by Mike Nyinaku.
The trial was scheduled on Monday, March 20, but adjourned to Monday, March 27, 2023, for a continuation of the cross-examination of the First Prosecution Witness, Julius Ayivor.
At the previous hearing on Friday, March 17, 2023, Thaddeus Sory, Counsel for Mike Nyinaku continued with his cross-examination of Mr Ayivor, a chartered accountant with auditing and advisory firm, KPMG.
Mr Sory, in his cross-examination, claimed that customer funds/monies that had allegedly been siphoned from Beige Bank to Beige Capital Asset Management, a company owned by Mike Nyinaku, were done in the ordinary course of Beige Bank's business.
Mr Sory argued that funds/monies that had been placed with the Bank by its customers formed part of the Bank's property and are not the property of shareholders or customers who deposited those funds/monies with the Bank.
In direct response to Mr Sory's argument, Mr Ayivor explained that even though funds/monies placed by customers with Beige Bank became the property of the Bank, those funds/monies equally stood to the credit of those customers to whom the Bank had an obligation to pay back those funds/monies, when those customers made a request for them.
Mr Ayivor further stated that, siphoning those funds from the accounts of the customers into the account of Beige Capital Asset Management also held with Beige Bank on the instructions of Mike Nyinaku, without the instructions or knowledge of the affected customers, meant that the affected customers only had access to the balance that remained on their accounts with the Bank after the funds/monies had been siphoned.
Mr. Ayivor also added that, once the funds/monies got into the account of Beige Capital Asset Management, those funds/monies stood to the credit of Beige Capital Asset Management and not the customers any longer, explaining why Beige Capital Asset Management together with Mike Nyinaku had access to those funds totaling GH¢448 million, most of which were appropriated, leaving a balance of GH¢539,515 as of 1 August 2018 on Beige Capital Asset Management's account, at the time when the Bank's license was revoked by Bank of Ghana.
Mr. Ayivor had during previous proceedings explained to the court, using twelve (12) samples out of the over 10,000 affected customers, how the funds/monies of customers of the Bank were siphoned out of their account causing the government to provide resources to settle the affected customers.
During one of those proceedings, on 13th March 2023, Mr Ayivor referred the court to a document that had been tendered in evidence which is a report prepared by Beige Bank's Receiver that was submitted to the Office of the Attorney General and Ministry of Justice (AG's Office) based on a request from the AG's office.
That report, according to Mr. Ayivor, contained amongst others, the names of the over 10,000 customers of the Bank who were victims of what Mr. Ayivor alleged to be a scheme to siphon funds for the benefit of Beige Capital Asset Management and Mike Nyinaku, and the specific amounts allegedly siphoned from their accounts.
Mr. Ayivor also stated that, all the over 10,000 affected customers, who placed funds/monies in their current account with the Bank for the purpose of buying Fixed Deposits with the Bank never knew that those funds had been siphoned to another entity, Beige Capital Asset Management, as the certificate of investment that was issued to the customers under Mike Nyinaku's supervision only had "BEIGE" embossed on the certificates, which had been issued by Beige Capital Asset Management and not Beige Bank.
Mr. Ayivor, alleged, using one of those certificates that had been issued to one Emmanuel Richard Ofori in connection with a GH¢4million investment, that those "BEIGE" certificates were intentionally issued to the affected customers to "mislead" the customers into thinking that the funds remained placed with Beige Bank in fixed deposits, while indeed those funds had been moved from the customer's account with Beige Bank to Beige Capital Asset Management's account.
In another question, Mr. Sory claimed that Bidvest Microfinance Limited, one of the over 10,000 customers whose funds had allegedly been siphoned to Beige Capital Asset Management without their knowledge and instructions had fully been repaid their deposit of GH¢3 million, which Mr. Ayivor alleged had been siphoned out of their account before Beige Bank's license was withdrawn.
In his response, Mr. Ayivor said, "My lady, it is true that Bidvest received a credit of GH¢3.1million on 25 April 2018 which is shown on Exhibit H15 but that credit was paid out of the fictitious account opened in the name of First Africa Savings and Loans, which is exhibit K".
Mr. Ayivor further explained that the GH¢3.1million paid to Bidvest, was made out of the over GH¢320million customer funds that had been siphoned on the instructions of Mike Nyinaku, into a fictitious current account opened in the name of First Africa Savings and Loans, without the knowledge of the Board and management of First Africa Savings and Loans.
Mr. Ayivor further described the "scheme" under which Bidvest was paid as "robbing Peter to pay Paul".
In a direct follow up question, Mr. Sory asked, "from Exhibit H15, Bidvest was fully paid yet its name appears as a recipient. Who was the one who robbed government to pay Bidvest – Peter?".
In response, Mr. Ayivor said "My Lady, if you look at the record of payments that were made to the affected customers out of the government bailout package, which is Exhibit 5, Bidvest's name is not there, confirming that Bidvest was not paid twice as Counsel seeks to portray".
During cross-examination of Mr. Ayivor on Monday, 20th March 2023, Mr. Sory tendered a letter dated 11 January 2019 from the Receiver of Beige Bank in which the Receiver demanded from Mike Nyinaku repayment of funds siphoned out of Beige Bank for his own benefit and to the benefit of companies owned by him.
The letter listed, in broad categories, the amounts involved, totaling about GH¢1.2billion. Mr. Sory sought to argue that because the Receiver made demands on Mike Nyinaku for the repayment of the amounts allegedly siphoned out for the benefit of Mike Nyinaku and his companies, the amounts demanded qualify as debts and nothing else.
Referring to the 11th January 2019 letter, Mr. Sory asked "in the letter, the Receiver informs Mike Nyinaku that he was formally demanding repayment of all those funds that you mentioned in paragraph 25 of your witness statement" to which Mr. Ayivor responded "that is so, and that is because the Receiver's mandate as prescribed under Act 930 includes recovering debts owed to the bank and that could be made up of those legitimately advanced by the bank and those illegitimately siphoned out of the Bank, so this paragraph is just in fulfilment of that mandate".
In a quick follow up question, Mr. Sory asked, "and you are aware that under Act 930, it is not illegal for a bank to expose itself to related parties?", which Mr Ayivor responded "My Lady, I am aware that a bank can be exposed to related parties to some extent. There is a cap that is allowed under the Act".
Mr. Ayivor further added that there should also be an agreement between the bank and the said related parties as well as a Board approval if those transactions are to qualify as regular. He however added that, that did not happen in the case of Beige Bank, as in Beige Bank's case, monies were siphoned at will from the Bank to Mike Nyinaku and companies owned by him on the blind side of the Board of Directors and those monies have to date not been repaid to the Bank.
The facts of the case as narrated by Alfred Tuah-Yeboah, Deputy Attorney General were as follows: Mike Nyinaku was the former Chief Executive Officer of The Beige Bank Limited and on 1 August 2018, Bank of Ghana revoked the banking license of Beige Bank and placed it in receivership. A review of the financial and other records of the Bank conducted by the Receiver and his team revealed several suspicious and unusual transactions, which were subsequently reported to the law enforcement agencies for investigation.
The Deputy AG said the investigations conducted revealed that between 2015 and 2018, the accused person as CEO of the Bank had allegedly used various means to transfer huge sums of monies to companies related to him and for his personal benefit.
Mike Nyinaku is standing trial on forty-three (43) counts of stealing, fraudulent breach of trust and money laundering, involving the siphoning of a total of GH¢1.2 billion from the defunct Beige Bank between 2015 and 2018, in a case presided over by Justice Afia Serwah Asare-Botwe, a Justice of the Court of Appeal sitting with additional responsibilities as a High Court Judge. He has pleaded not guilty to all charges.
DISCLAIMER: The Views, Comments, Opinions, Contributions and Statements made by Readers and Contributors on this platform do not necessarily represent the views or policies of Homebase Television Ltd.
Visit Our Social Media for More
About Author