Asogli State Council outlines event for Te zà 2022 celebrations
The Asogli State Council has outlined series of activities to herald this year's Te zà 2022 (Yam Festival).
The festival is celebrated by the people of Asogli State, in the Volta region of Ghana.
The Yam Festival celebration is expected to take off from Saturday, August 6 to Sunday, September 11, 2022.
It could be recalled that, Covid-19 pandemic affected the last three editions.
The euphoria characterising this year's celebration can be seen in the avid desire of people of Asogli State and the larger Ewe community both home and abroad.
This is because, the festival, Te zà (Yam Festival) which is a symbol of unity, appreciation, display of culture and creates sense of belonging among the Ewe community.
The planning committee, under the auspices of the Paramount Chief of Asogli State, Agbogbomefia, His Royal Majesty Togbe Afede XIV, has outlined the following events to climax this year's Te zà which brings back memories and creates reminiscence.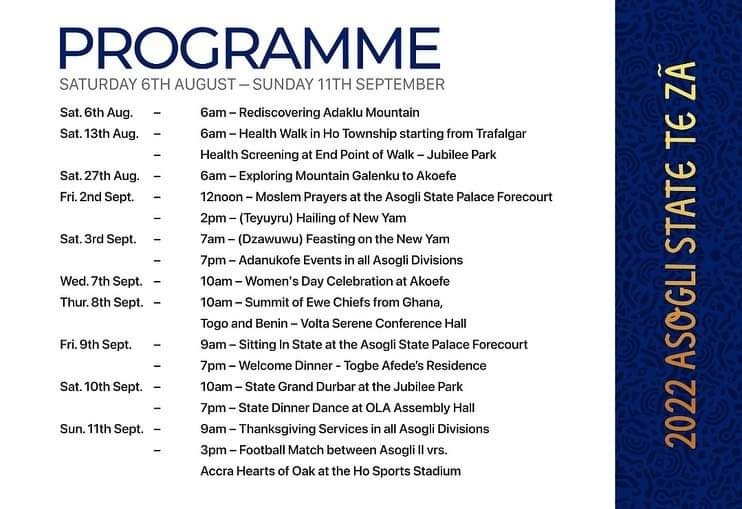 1. Saturday 6th August – 6am – Rediscovering Adaklu Mountain
2. Saturday 13th August – 6am – Health Walk in Ho Township starting from Trafalgar Health Screening at End Point of Walk – Jubilee Park
3. Saturday 27th August – 6am – Exploring Mountain Galenku to Akoefe
4. Friday 2nd September – 12noon – Moslem Prayers at the Asogli State Palace Forecourt 2pm – (Teyuyru) Hailing of New Yam
5. Saturday 3rd September – 7am – (Dzawuwu) Feasting on the New Yam 7pm – Adanukofe Events in all Asogli Divisions
6. Wednesday 7th September – 10am – Women's Day Celebration at Akoefe
7. Thurday 8th September – 10am – Summit of Ewe Chiefs from Ghana, Togo and Benin – Volta Serene Conference Hall
8. Friday 9th September 9am – Sitting In State at the Asogli State Palace Forecourt 7pm – Welcome Dinner – Togbe Afeders Residence
9. Saturday 10th September – 10am – State Grand Durbar at the Jubilee Park 7pm – State Dinner Dance at OLA Assembly Hall
10. Sunday 11th September – 9am – Thanksgiving Services in all Asogli Divisions 3pm – Football Match between Asogli II yrs. Accra Hearts of Oak at the Ho Sports Stadium
Visit Our Social Media for More