Apeatse Explosion: Truck driver in good health; motor rider responding to treatment – Police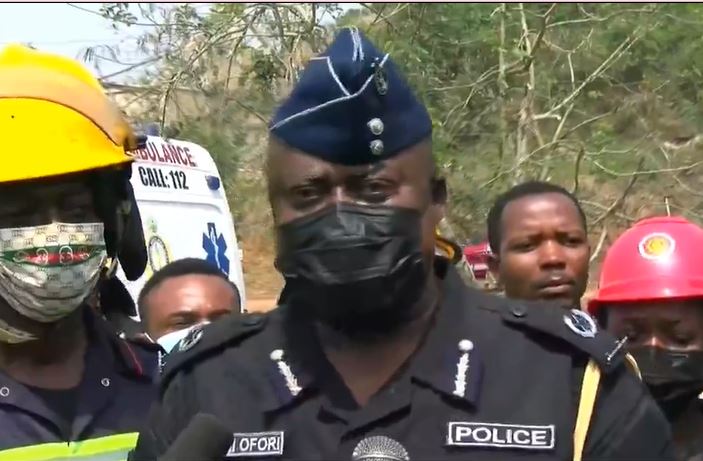 The Police Service has disclosed that the two motorists who were involved in the accident at Apeatse near Bogoso, that resulted in the explosion, are currently in good health.
Speaking on JoyNews' The Pulse on Friday, ACP Kwesi Ofori, said the driver of the truck is doing well while the motor rider is responding to treatment at a medical facility.
"Let me use this opportunity to also state that the truck driver is in good health. The gentleman who was on the motorbike is also responding to treatment," he stated.
The disastrous accident at Apeatse involved a DAF vehicle with registration number WR 2252-18 transporting explosives from Tarkwa to Chirano Gold Mines and a motorcycle.
The Police stated that the rider of the motorcycle from the opposite direction, collided with the vehicle at around 11:25 pm on Thursday.
According to the Police, due to the impact of the crash, the motorcycle caught fire and ignited the explosives on the DAF van. The DAF vehicle, thus burst into flames.
Consequently, 13 people are reported to have died with 57 severely injured and 384 persons displaced.
Meanwhile, the ACP Kwesi Ofori is refuting claims that the truck driver left the scene of the accident to save himself without warning onlookers.
This comes after a surviver of the explosion alleged that the driver of the exploded truck, did not inform the residents about its content.
Responding to the allegation, he said the driver did a diligent work after the accident occurred.
He explained that after the collision, the driver hurriedly went to the community's school to inform the teachers, adding that the students were therefore whisked away to safer ground thereby minimising the number of recorded casualties.
Therefore, the driver was of good help to the people of Apeatse.
"And for the driver knowing what he was carrying, was of help to the community here. He quickly rushed to the school and informed the teachers about the danger that was to come," he stated.
"He also announced to most community members to move out, including the motor rider and they rushed out to safety," he added.