Former President John Dramani Mahama has said President Akufo-Addo destroyed the jobs of small scale miners only to allow his party members to engage in the business.
According to Mr Mahama, President Akufo-Addo collapsed the business of the galamseyers claiming it posed as a threat while his party affiliates still engaged in it.
The former President has, therefore, urged small scale miners to vote Nana Akufo-Addo out of power in the December polls.
Addressing a gathering at Agona Amenfi in the Western Region on Monday, 19 October 2020, Mr Mahama said: "President Akufo-Addo promised not to collapse galamsey but what has he done? He has stopped your work. What is more painful is that he has allowed his people to engage in the practice to get money whereas he has barred his opponents form doing the same. His people are still doing galamsey."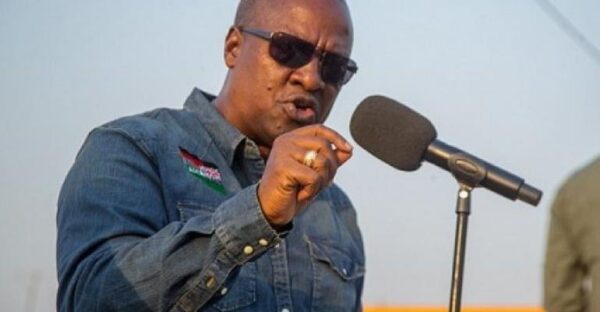 Read also: Goldstar Air, E-Station Donates PPE's To Agidor Events Beauty Pageant
Mr Mahama further noted that when voted into government, he will retrieve all seized mining equipment under the Akufo-Addo-led government and return them back to its original owners.
"President Akufo-Addo seizes excavators belonging to his opponents and gives them to his party people to engage in the trade. When we come to power we will retrieve all the missing excavators and give them back to their rightful owners."
Mr Mahama has also promised to give back all mining concessions that were taken away from its original owners as part of the Akufo-Addo government's fight against galamsey.
Mr Mahama said the move to return the concession and excavators back to the small scale miners is to ensure every Ghanaian benefit from the national cake.
The NDC flagbearer said this at the introduction of his running mate, Prof Naana Jane Opoku-Agyeman, to Asantehene Otumfuo Osei Tutu II at the Manhyia Palace on Wednesday, 26 August 2020.
The Akufo-Addo-led administration as part efforts to fight illegal mining activities banned small scale mining activities.
Some of the miners' concessions were allegedly taken away from them and their excavators seized.
Source: Classfm