The Association of Ghana Industries (AGI) has expressed disappointment at the passage of the three revenue bills; Excise Duty, Growth and Sustainability Levy and Income Amendment Bills by Parliament.
In a statement issued Monday, April 3, 2023, the AGI said the passage of these bills, coming on the heels of an already harsh business climate, poses very dire consequences for industry.
"We continue to experience a tax regime that does not motivate local production and formal business operations. We denounce the lack of stakeholder consultation on such fiscal policies, which have negative impact on businesses. AGI took steps to make input to the bills and it's obvious that our submissions did not receive the consideration we expected."
According to the umbrella body for Ghanaian industries, local industries are already under severe pressure from several challenges, including;
• Inflation currently at 52%
• VAT shot up to 15%, resultant effect of 21.9%
• Water tariff increments at about 172% for the beverage sector
• Electricity tariff currently at 29.9% for industry
• Policy rate at 29.5%, making cost of credit exorbitant
• Increase in Residual Fuel Oil (RFO) price due to Government subsidy withdrawal
• An unstable foreign exchange regime
• Levies and taxes on imported raw materials totalling about 50%.
"Electricity tariffs shot up significantly on two occasions totalling a whopping 56.5%, within a period of less than six months. How could our beverage sector absorb water tariff increment of over 300% in a single tariff review and now excise duties slapped on locally produced beverages.
"Contrary to Government's ambitious revenue projection which largely hinges on the performance of Industry, we foresee a contraction in manufacturing and other related business activities.
"Businesses may have no option than to cut down on expenditure and production levels to stay within budget. With the foregoing, Government risks missing its revenue target if industry has to contend with these new taxes. While we reckon that Government needs revenue, fiscal prudence is crucial. We appreciate the urgent need of the IMF measures, but this should not be at the expense of growth in our industrial sector.
"Indeed, it is in the mutual interest of industry and Government to sustain Agriculture and Industrial sectors which hold the key to job creation.
"We call on Government to engage AGI on measures to incentivise our local industries to forestall the negative consequences of these policies. To this end, we welcome the opportunity to dialogue with Government on how to save jobs and the strategic options to explore in cushioning our local industries.
"AGI wishes to assure its members that the Association will continue to engage Government on such fiscal policies to bring positive reviews in subsequent national budget statements," said the statement signed by the Chief Executive of the AGI, Seth Twum-Akwaboah.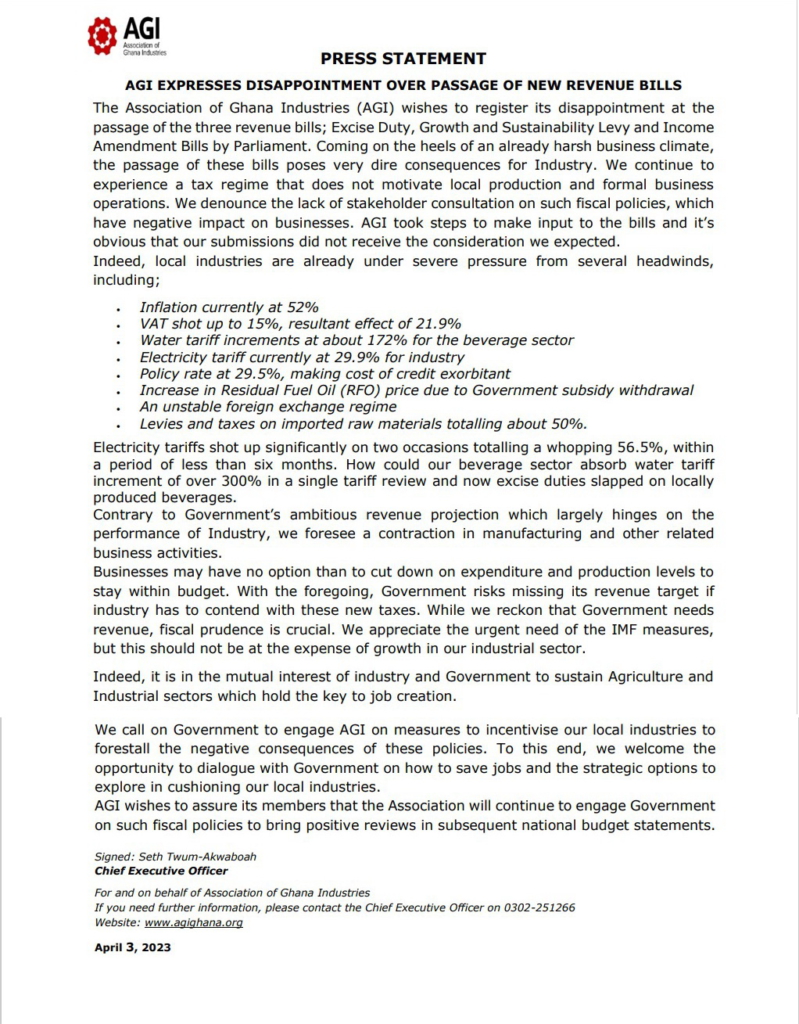 DISCLAIMER: The Views, Comments, Opinions, Contributions and Statements made by Readers and Contributors on this platform do not necessarily represent the views or policies of Homebase Television Ltd.
Visit Our Social Media for More
About Author