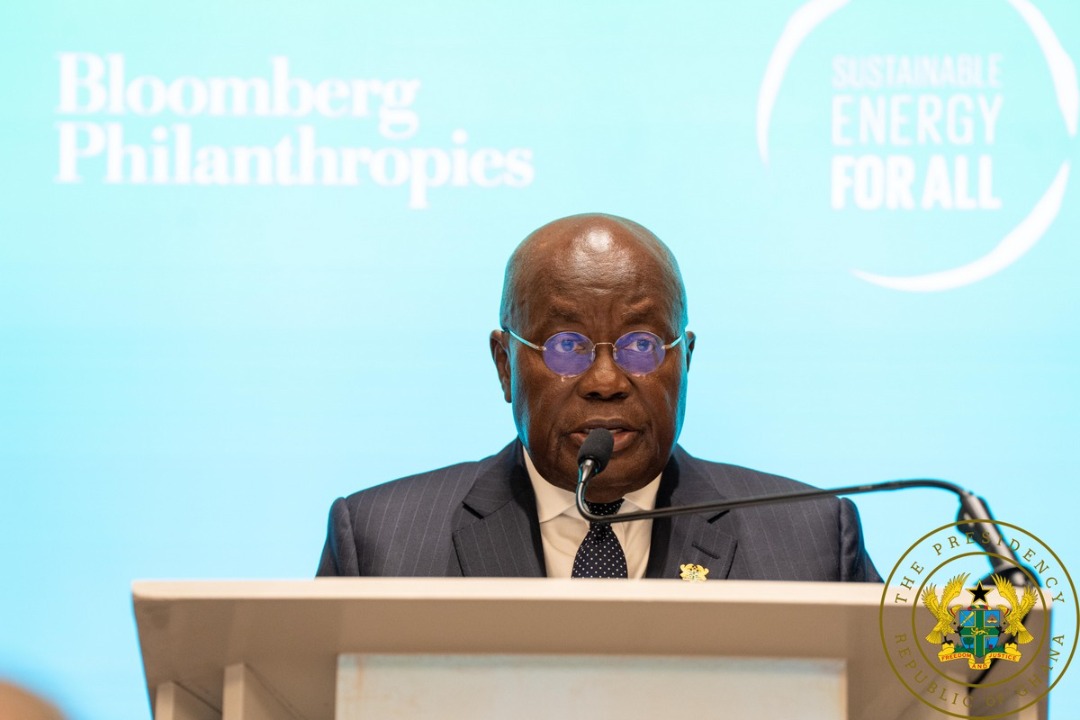 President Akufo-Addo has charged African regional leaders to continue pursuing the dream of building high-speed road networks that would connect all major cities across the continent.
He urged them to push towards the construction of highways with piping infrastructure for energy, gas, oil, and water, as well as Information Communication Technology (ICT) fibre optic cables.
President Akufo-Addo said these were crucial catalysts for the development of the manufacturing sector, uptake in Technological Skills Development and Research and Innovation on the African continent.
He made the call at the opening of the 3rd International Road Federation (IRF) Africa Regional Congress and Exhibition, in Accra, on Wednesday, April 26.
The conference is on the theme: "Delivering Tools for Mobility and Regional Connectivity."
The objective of the three-day event is to, among other things, adopt a long-term transport infrastructure funding and procurement framework for the continent, deliver "vision zero" for safer road mobility, and introduce world-class Traffic Engineering and Management Solutions in the region.
It is also to enhance the quality of the transportation network through durable pavement design, climate-resilient infrastructure, and preventive asset management strategies.
President Akufo-Addo noted that despite Africa's many challenges, the continent continued to take bold steps to boost trade among countries, specifically, the establishment of the African Continental Free Trade Area.
He also indicated that major road projects were currently being pursued by African leaders to enhance inter-mobility and promote trade on the continent.
For instance, the African Union in conjunction with regional bodies such as the African Development Bank, and the United Nations Economic Commission for Africa, are pursuing the development of the trans-Africa highway.
Within the West Africa region of ECOWAS, detailed engineering studies were far advanced on the 1,028-kilometer six-lane expressway corridor from Abidjan to Lagos, of which 576 kilometres representing 56 per cent of the road is situated within Ghana.
When completed, the highway would augment existing transportation infrastructure and boost trade in one of Africa's most vibrant economies.
"The Africa we all want should be an integrated, prosperous, and peaceful continent, driven by our own citizens and representing a dynamic force in the global arena.
"Vision is very achievable. It requires visionary leaders who will…. contemporary challenge and will be able to provide the necessary, diverse climate-resilient and robust transport sector, accelerate growth, technological transformation, trade, and development," President Akufo-Addo said.
The President told the gathering that his government had undertaken several road projects to improve inter-mobility, emphasising that since his assumption of office six years ago, Ghana's transport sector had witnessed considerable growth, with roads across all 16 regions receiving major improvement.
He stated that his administration had also revamped the railway, aviation and inland water transport systems and the ports, saying, "it would continue."
President Akufo-Addo urged African leaders to pursue safety in every aspect of the policies they implemented to reduce the rate of fatalities on roads.
The IRF Chairman, Dr Wm. H. (Bill) Sowell, said the Federation recognised the crucial role that roads play in promoting economic development, improving access to essential services, and enhancing the quality of life for citizens.
He said rapid urbanisation and population growth required urgent investment in sustainable transportation infrastructure that was resilient, safe, and efficient.
Through the congress, Dr Sowell said the IRF hoped to foster greater collaboration and knowledge sharing among delegates, as well as highlight the latest technological advancements and best practices in roads and mobility.
"We are confident that this congress will provide a valuable platform for delegates to learn, explore and share insights and experiences, and ultimately contribute to the development of sustainable and resilient road infrastructure across the African continent.
However, the Minister for Roads and Highways, Mr Kwasi Amoako-Attah said Ghana had achieved significant strides in the provision and improvement of its road systems despite international global challenges.
With hard choices ahead, he said Ghana was at a crossroads as it sought to select appropriate technical choices and innovative funding models to achieve its socio-economic objectives.
"This 3rd IRF Africa Regional Congress has therefore come at a most opportune time where International Road professionals will share their experiences and forge lasting bonds with our planners and engineers," he said.
Mr Pierre Frank Laporte, the World Bank Country Director, gave the assurance that the Bank would continue to support African governments to improve the roads infrastructure on the continent.
DISCLAIMER: The Views, Comments, Opinions, Contributions and Statements made by Readers and Contributors on this platform do not necessarily represent the views or policies of Homebase Television Ltd.
Visit Our Social Media for More
About Author