Ada Traditional Council calls for community support for Songor salt project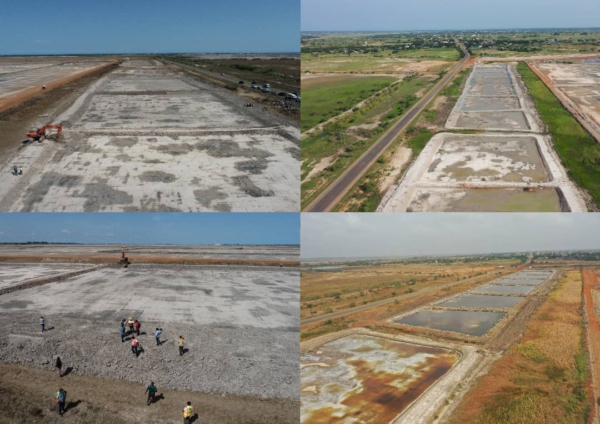 The Ada Traditional Council has called for support for the Songor salt project which is currently being operated by Electrochem Ghana Limited.
It's been just a little over a year since the Songor lagoon was leased to the company for development, amidst stiff opposition from some community members.
Deputy Lands and Natural Resources Minister, George Mireku Duker was at the site last Friday and pledged government support for the project.
In an interview with JoyNews on Friday after a tour of the 41,000-acre concession, the chiefs, led by Nene Ada, the Paramount Chief of the Ada Traditional Area, urged community members to support the company to develop the concession.
"The people that are saying no, there are some who have sold or lease some lands in the concession area to people and they cannot deliver because if I sell the land in the concession area it is invalid," he said.
Head of Public Relations and Corporate Communications at Electrochem Ghana Limited, Henking Adjase-Kodjo assured the people in the community of a continuous source of livelihood from the concession.
"We place similar priority on the host community, the welfare of the people as we do to our business. A lot of people have their source of livelihood tied to mining and the communities along the concession and so if the concession has been taken over by the company it's only appropriate that we give them brines that will be solely dedicated to them to mine in a way not to take away their source of livelihood from them," he stated.
The concession which is currently in operationalisation is expected to produce an average of one million tonnes of salt annually for both local and international markets.
Seven out of ten community pans, designated to the Nakomkope community, are ready. This will be replicated in all the other communities to cater for the interest of the local miners. Old pans have also been rehabilitated and new standard ones built to help in the production of high-quality salt for both the local and export markets.
District Chief Executive of the Ada West District, Sampson T. Kpankpah, last month lauded Electrochem Ghana Limited for proving responsive to the needs of the assembly and the Ada communities at large.
According to him, the company has rolled out numerous CSR projects and has just started rehabilitating portions of a six-kilometre road that connects key salt mining communities in the district such as Nakomkope, Agbedrafor, and Koluedor.
"The speed with which the company responds to our requests is laudable. Barely three weeks ago, I put a request before the company through the McDan Group Chairman, Dr Daniel McKorley, to assist the assembly with heavy-duty machines to address one of our major challenges in the district, demarcation, and clearing of layouts. I am excited to say that the request was given quick attention and work commenced over the weekend at Sege."
Visit Our Social Media for More