My 'UN Kofi Annan' Awards Scheme Not Fake – Kwame Fordjour Hits Back At Critics
Views: 126
Read Time:
2 Minute, 30 Second
Kwame Owusu Fordjour the organizer of the Global Blueprint Excellence Award has come out to defend the credibility of the awards scheme.
The supposed United Nations and Kofi Annan collaborative awards were handed to many top Ghanaian personalities and celebrities including Sarkodie, D-Black, Berla Mundi, Nathaniel Attoh have proven to be fake.
After the event on Friday, August 28, in Accra at the Alisa Hotel, there have been several talks of the awards scheme being a scam.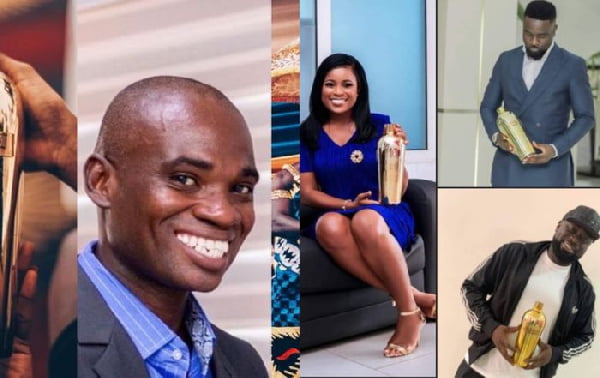 The evidence of the scam was revealed on Twitter after some tweepers dug down to uncover what has come to be known as the biggest award scam of the year.
Dr. Kwame Owusu Fordjour as he is known to many speaking to Joy News insists the awards scheme is not fake as people have carried it and he will throw more light on it in due time.
"I am just surprised, this is an open thing that we even advertised. If anybody has with me or the award scheme should come to me or contact as for clarification. You calling us fake when you don't know the rules is not the best. People are threatening me and I never wanted to speak out but have to. I have been an underdog for development, excellence and honouring others and attached ourselves to global icons and leadership to bring this award up."
Read also: 44- Year Old Man Jailed For Chop Off Another Man's Ear Over Girlfriend
The award scheme went viral after Ghana's BET award winner Sarkodie posted his award on his official social media account with Johnny Hughes, Berla Mundi, D-Black and many others as recipients.
Kwame Owusu Fordjour and his entourage also managed to scam the Vice-Chancellor of the University of Ghana, Legon, Professor Ebenezer Oduro with the award. The university later reported the award on its website raising many eyebrows.
It was, however, uncovered by a young unnamed journalist who is yet to publish his findings that the awards were fake. The journalist tried to reach out to some senior journalists to help him fact-check his findings but to no avail.
According to a conversation stumbled on by ghanaweb.com, Kwame Owusu Fordjour lied under the pretense that the coronavirus pandemic was the reason why the awards couldn't be verified with the United Nations. He claimed that the UN was aware of the awards although staff of UN are working from home.
Below is the list of awardees:
Madam Gifty Ohene-Konadu
Captain Smart
DJ Black
Nathaniel Attoh
Natalie Fort
D Black
Sarkodie
Archbishop Prof. Dr. Asafo-Agyei Anane Frempong
Ebenezer Kewaw Madugu
Chairman Wontumi
Christian Adu Poku
Frederick Acheampong
S. K. Boafo
John Boadu
Professor Ebenezer Oduro
Johnny Hughes
Berla Mundi
Daughters of Glorious Jesus
Cynthia Akwele Lamptey
Madam Eleanor Effe Amanor
Sammy Heywood Okine
Gloria Nak Commodore Snr
Alban Bagbin (2019)