12 movies to binge on Valentine's Day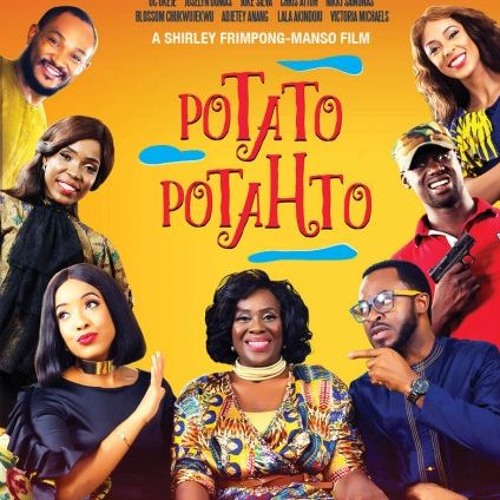 After a hard day's work on a Monday, despite it being Valentine's Day, it is imperative to take a rest and later join that special someone celebrate.
Due to exhaustion, taking the fun outside can be challenging. For this reason, MyJoyOnline.com has brought the fun to your door steps.
After a thorough search, here are 12 recommended movies to enjoy with that special someone to mark the day of love.
Potato Potahto
This film is about a couple who decide to continue living together even after their divorce has been finalised. They both own their home and none of them is willing to sell to the other, or give it up. Well of course we know, the last thing you'd want to do is watch on Valentine's day is a film about a divorced couple but please hear this out; yes they may be divorced but there is a depth to their relationship after they both soon realise living together after a divorce might not be so good after all.
But as much as these two are divorced, this film is about coexisting with people you may not be so excited about and rebuilding a strained relationship.
Potato Potahto is streaming on Netflix.
The Photograph
This is one of the best films about love you'd ever watch. It tells two parallel love stories, one about Christina who decided to leave behind her love, Isaac, to pursue a career in photography and another about her daughter Mae.
In the present, her daughter Mae is a curator, in New York. Her relationship with her mother and her mother's story greatly influences her life. She meets a reporter Micheal, and the two of them begin to fall in love. However, when Michael gets a job in London it begins to affect their relationship.
In the words of author Robert Jones Jnr, the film is endearing, velvety, mellow, jazzy, and tender.
The Photograph, which stars Issa Rae and Lakeith Steinfeld, is streaming on Amazon Prime.
Beyond The Lights
This is a love story that takes you behind the scenes of a pop star's life. Noni Jean is an artiste tipped for superstardom but after winning a Billboard Award, she attempts suicide by falling off her hotel balcony. Kaz Nicol the cop tasked to follow her team that night rescues her. Kaz is not happy he is forced to lie about what truly happened, but an unexpected friendship with Noni leads to a great love.
Through this, Noni on the other hand comes to terms with her failures under his guidance and pursues her ambitions, unaware that he loves her.
Beyond The Lights is streaming on Amazon Prime.
The Wedding Party
What are the two things that work so well? Romance and comedy and this film is a perfect mix of the two. Dozie Onwuka (played by Banky W) and Dunni Coker (played by Adesua Etomi) both from two wealthy families are tying the knot.
But when their big day arrives, complications like torn wedding veils, exes, fighting parents and unapproved wedding plans threatens to turn this beautiful day into a nightmare.
The Wedding Party is streaming on Netflix.
Perfect Picture: 10 years later
A close circle of friends enter a new decade in their lives and face more issues, from finances to relationships with husbands and romantic exploits.
The film stars Naa Ashorkor, Lydia Forson, Jackie Appiah, RMD, Adjetey Annang and many others.
To All The Boys I've Loved Before
Lara Jean a shy high school girl writes secret, soul-baring letters to her five crushes, but never meant to send them. But when her sister does, she is forced to face some of the boys including her sister's ex-boyfriend of five seconds and Peter the boy she shared her first kiss with.
Meanwhile, Peter needs to make his ex jealous hence hatches a plan to make Lara Jean his fake girlfriend. But this fake relationship takes an interesting turn.
To All The Boys I've Loved Before and its two sequels are streaming on Netflix.
And if you are single, take a cue from this, write love letters to all your crushes, get your sister/brother/best friend to send them and see who responds, five odds is better that none right?
The Good Old Days: The Love of AA
Talking about love, there is so much pleasure in reminiscing over the past. The glorious days where love roamed around hopping like a happy child. For this reason, I take you to The Good Old Days, where we see The Love of AA blossom like a flower.
Directed by Kwaw Ansah, released in 2010, the story captures the love story of two friends. They find love at the Senior High School and have to face obstacles to prove what they have is worth fighting for. Love at such age can be so fierce.
Not convinced? It features Albert Jackson-Davis, Nana Akowa Sackey, Mawuli Semevo, Evelyn Ansah Galley and others.
Why Marry
The next movie might seem a little bit off by just looking at the title but it is important to ask yourself once in a while, Why Marry? Sometimes it takes such a compelling question, one that requires deep thinking to make one realize, at this point, life cannot be the same without that special someone.
Even though they appear to be a thorn in the flesh, they also are the air that you breathe – the butter in your bread and the so many clichés around. If not married, it is good to take a cue from Majid Michel and Yvonne Okoro who experience "a Tom and Jerry" situation. There is always that undying love between the duo.
If married, why not, recall the days when you thought it would all turn into ashes but now, just an experience that births laughter. Why Marry was directed by Frank Rajah Arase.
Contract
Let us dawdle around Yvonne Okoro for a little while. Would you agree to be a vessel for a child and have no strings attached? If yes, you then sign the Contract. That is exactly the story of Abena Boateng, a character played by Yvonne Okoro.
The mind that conceived this was no other than South African actor, HlomlaDandala. The movie shows how the two, figuratively live like cats and dogs. But what looks like a storm gradually turns into a paradise when the two madly fall in love with each other.
Did the relationship start on a rocky ground? Then this is the perfect film to educate you on ways to right your wrongs and win his or her heart step by step. Contract was produced by Yvonne Okoro and directed by Shirley Frimpong-Manso in 2012.
A Naija Christmas
What month speaks of love aside from February? December does and this is all because of Christmas. There is sharing and caring and romance is everywhere. It is a mother's Christmas wish for her three sons to find a good woman and settle down.
But little does she know her eldest aside from being a womanizer is also involved with a dangerous man. Her second son is being used by a beautiful woman, his boss and he is so madly in love. The last child is having an affair with a married woman.
Like a fairytale, it takes a good woman to set the heart of her eldest child straight and the second child falls in love with his best friend. The journey that leads to their love is not easy. But all these would not have been possible if not for a reward for the one who ties the knot first.
Najia Christmas was written by Kemi Adesoye (screenplay) and directed by Kunle Afolayan. The cast include Rachel Oninga, Kunle Remi, Segilola Ogidan. It is streaming on Netflix.
Mr Queen
A fan of tragicomedy? A chef admired by many for his immaculate cuisine finds himself wanting after he is sabotaged. He falls into a pool and the next thing he notices, he is in the Joseon period but this time as a woman and no one else than the Queen.
Mr Queen, Queen Cheorin has to perform the duties of a woman but deep inside, he is a young man looking for the least opportunity to display his flirtatious prowess. He contends with the King everyone thought to be dumb. The King wants the Queen dead. The least mistake, you are killed in this era.
Queen Cheorin finds a way to light up the palace with her spontaneous actions and begins to lose himself as a man. When she finally finds love in the King, it is ripped away. However, she fights hard enough to build a family with the man who once hated her but has fallen completely in love with her.
Mr Queen is a 2020–2021 South Korean television series directed by Yoon Sung-sik.
The Men We Love
If there is energy after the day's work, make a date. Tonight at 7pm, The Men We Love by YN Productions premieres at the Silverbird Cinema at Accra Mall. The movie stars Majid Michel who has not been in a film for a while.
The others are James Gardiner, Kofi Adjorlolo, veteran Eunice Banini, Tiktoker Jackeline Mensah, Angela Banford.
Just as the name suggests, find out more on Valentine's Day about the men you love. Tickets go for GH₵50.